I often wonder why do we spend so much time in cooking while it takes much shorter time to enjoy your home cooked meals?
Cooking should be a labor of love. Therefore, we often don't mind how long it takes to get it done; what is important is to see the smile of approval our family shows when they taste our food.
But if we are preoccupied with other things, and don't have the luxury of time to spend in the kitchen, then food preparation and cooking can be an issue. Thankfully, we have pre-packaged ingredients available. Packaged coconut milk, pineapple chunks, and chicken stock are already available at supermarkets so we don't have to follow the old way to prepare them.
Still, there are ways to save time cooking our favorite dishes. Washing the utensils while waiting for meat to become tender and use of kitchen tools are among those initiatives.
For example, using a chopper to mince garlic, onion, ginger and other ingredients cuts down the food preparation time. I am currently using Ambiano mini chopper, a handy but heavy duty chopper that can get the job done in your daily cooking routine. Whether veggies, nuts, herbs or fruits, a chopper can expedite the cooking process.
Food choppers can be manual, which doesn't require electric power, or automatic which does the job with a touch of a button.
Benefits of having a food chopper in the kitchen.
Speed up food preparation
A hard-working food chopper takes the spotlight in your food preparation. Gone are the days when you have to spend long periods of time in the kitchen counter cutting vegetables. Just plug in the small appliance to a power source and place the washed ingredients into the container and the chopper does the job for you.
Reduce risk of kitchen accidents
Maybe it's not whether you had ever experienced cutting your finger while chopping onion, but how many times. With a food chopper, you get fewer touches of the kitchen knife and therefore lessen the risk of getting your hand or finger cut while cooking. The chopper still has sharp blades so careful handling is still required, but choppers often have safety features to protect users.
Maintain food hygiene
Chopper blades are made of stainless steel, which is non-porous and therefore maintains clean, germ-free environment for vegetables to be chopped. On the other hand, infections may originate from germs that linger in the chopping board that's not cleaned properly.
Produce good quality chopped pieces
The output of a food chopper is fine pieces of garlic, onion, ginger, or whatever ingredients you can place in there. Inexperienced cooks may find achieving this desired result a challenge and require a significant amount of time to accomplish.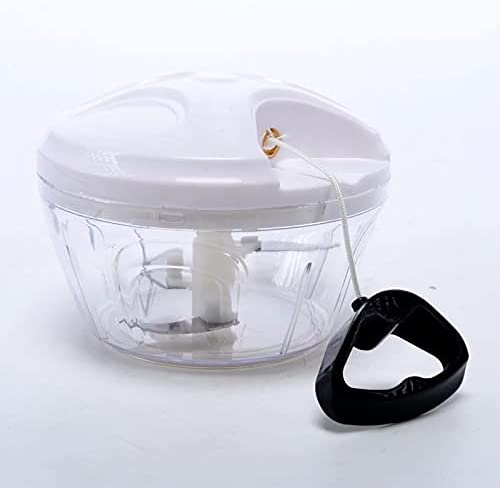 A similar product that requires no electric power is also available. It has a 400gm capacity, and features a patented pulling system and customized chopping levels, it can be utilized to chop, mince, mash and grind garlic, nuts, chili, and other cooking ingredients in no time.
Makes cooking an exciting experience
Manually cutting onions may shed your tears. A blunt knife makes cutting vegetables a struggle to keep consistency and invites injuries in the process. But with a food chopper, you'll get rid of such experiences, making cooking a more exciting venture in the kitchen.
With portable my mini food chopper occupying just a small area in the kitchen, it does not require a big space to operate. A safety rubber stand is also included to keep the chopper steady while performing its job. With few moving parts, it is easy to clean and store in the cupboard when not in use.

Disclosure: Some of the links in this article are affiliate links. This means that, at zero cost to you, I will earn an affiliate commission if you click through the link and finalize a purchase.