Filipinos are known alcoholic drinkers, and this drinking culture are sometimes immortalized in popular culture in songs such as Laklak or Inuman Na that surround the theme on getting inebriated.
Filipino parties for birthdays or fiestas or simply a gathering of friends could feature beer, spirits or cocktail drinks.
Beer
Beer is the most preferred alcoholic drink in the Philippines and provides about 70% share of all alcoholic drinks market in terms of volume in 2005. In fact, between 2003 and 2004, the Philippines recorded the fastest growth rate in the world. The most famous brand is San Miguel Pale Pilsen. A lighter variation San Mig Light, is also popular, mostly preferred by women and younger drinkers while Colt 45 and Red Horse beer is favored by hard drinkers. Other beer brands in the Philippines include Beer na Beer, Red Horse, Lone Star, Lone Star Light, Lone Star Ultra, Carlsberg, San Miguel Superdry, San Mig Strong Ice, and Coors Light.
Gin
The Ginebra San Miguel brand is the most well known brand. It's the most selling gin brand in the world, although it is mainly sold in the Philippines. The Ginebra San Miguel brand even earned some monikers for their gin products. The small round bottle is called "Bilog" (round) for its shape, and the bigger square shaped bottle is called "Kwadro Kantos" (Four Corners). GSM Blue is a variant of Ginebra San Miguel gin which is said to be smoother in taste. Gin Kapitan and London Gin brands are also sold in the market, but nowhere near the sales of Ginebra San Miguel. Gin has also come to be known as "Gin-Bulag" (Bulag is Tagalog for "blind") since it is said that drinking too much gin would make you go blind.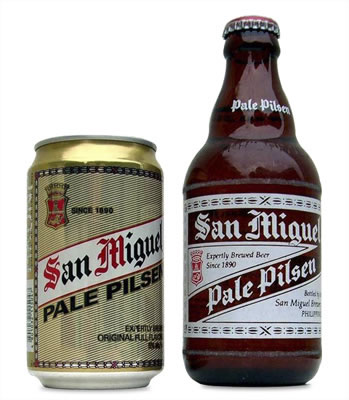 Rum and Brandy
Tanduay is the most popular brand of rum. As with the gin, Tanduay bottles have also earned monikers of their own. The smaller bottle is called "lapad" (wide) because of their distinctive wide-bodied bottles. The tall round bottles are often called "tore" or "long neck". Emperador is a close second to the popularity of the Tanduay brand. The Tondena Premium Rum and Anejo 65 Rum brands are also sold but is not as commonly known as Tanduay nor Emperador. Barcelona, Genoroso, and Gran Matador are the popular brands of brandy.
Other liquors are also sold in the Philippines, but gin, beer, rum, and brandy are the most popular alcoholic or "hard" drinks as locals sometimes refer them to.
Beer
San Miguel Beer
Red Horse
Carlsberg
Lone Star
Rum and Brandy
Tanduay
Añejo Rum 65
Emperador
Barcelona
Gran Matador
Primera
Gin

Vodka
Non-alcoholic Beers
Traditional drinks and local brands
Local drinks in the Philippines are often sourced from widely-available crops such as coconuts, rice and sugar cane.
Tuba or palm wine is a well-known traditional drink that's derived from coconut trees and extracted using bamboo tubes (sugong). Collected sap is fermented and produces a sweet liquor with a strong jolt.
While tuba is packaged in transparent glass containers and sold in neighborhood stores, it is not commercially produced and therefore has limited reach. On the other hand, lambanog is more well-known as it is available in commercial packaging. It is produced out of distilled tuba and is more popular in Southern Luzon region. Other examples of Philippine wine derived from local sources are rice wines called pangasi by the Visayans and tapuy by the Igorots. The basi by the Ilocanos is a wine derived from sugar cane juice.
Vino Kulafu is a type of Chinese wine more popular in the Visayas and Mindanao region. According to its maker Ginebra San Miguel, its formulation includes 12 authentic Chinese botanical herbs, and provides various health benefits. Competing brands are Fighter Wine and Siu Hoc Tong which are popular notably among the older drinkers especially in provinces where these products are commonly sold.
Original Filipino Alcoholic Concoctions
Gin Pomelo / Ginpom
Gin Pomelo is a cocktail made out of gin such as Ginebra "bilog", pomelo juice powder such as pomelo-flavored powder mix from Tang juice brand, and crushed ice. It became the drink of choice for the younger drinkers back in the late 1990's when Tang introduced its "Litro Pack" line of powdered Juices.
Expired
This simple concoction is made up of two 500ml bottles of Red Horse beer mixed with one small bottle of gin. It is then poured into a large pitcher and a big chunk of ice is added into it. Some put two "Storck" brand menthol candies into the mix. It was called expired since drinkers say it tastes like "expired beer".
Kagatan
Kagatan is the Tagalog word for "Biting". But biting has nothing to do with this cocktail. It was called "Kagatan" because the ingredients for this drink are Kape (kape, coffee), Gatas (gatas, milk) and Tanduay (the Tanduay brand of rum).
Boracay
So called because this drink was apparently invented in the Island of Boracay. It is the said to be the Filipino version of Bailey's Irish Cream. It is made up of rum, beer, chocolate malt powder, evaporated milk, gin, and finely ground peanuts.
Mistisa
Perhaps taking the cue from one's appearance after drinking this drink mix, mistisa is a combination of Tanduay rhum, Red Horse beer, Sprite and ice. Mix them all and you got this drink to enjoy in a "tagay" session with Filipino friends.
Funtonov
This drink is a mixture of Antonov vodka and Funchum or Zest-O orange flavor powdered drink. Mix together and add a generous portion of ice for a great drinking sensation on a hot and humid evening.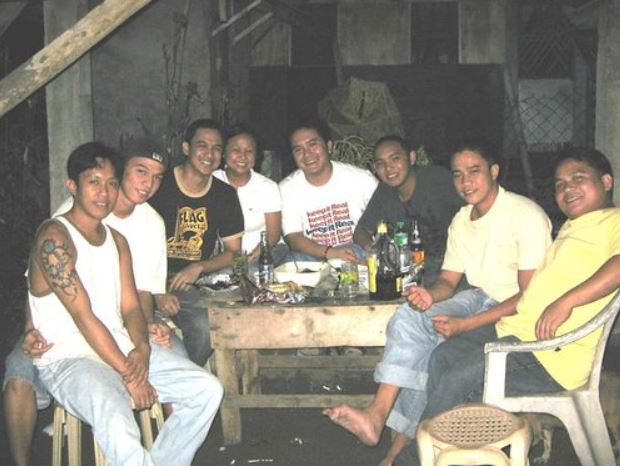 Filipino drinking culture
The drinking age in the Philippines is 21, although it's not too difficult for certain drinks to reach teenage drinkers due to loose enforcement of the law.
Filipino women often don't consume alcoholic drinks. If in a party or a social gathering, they may prefer cocktail drinks, soda/softdrinks or fruit juices.
Excessive drinking can sometimes happen and result in violent outcomes whether at bars or backyards. Ads on television and radio often remind consumers to drink moderately.
In a group setting (tagay — literally "pour"), participants surround a round of drinks with a few glasses, pulutan (beer matches) such as leftover meat, street foods, cicharon or crispy pata. Someone will act as "gunner" or a trustworthy drink pourer who ensures everyone gets a fair share of the bounty.
While hot topics are discussed or songs are being performed drinks are poured in order of seating arrangement. While "gunner" is a significant role during a drinking spree, others often get monickers depending on how they behave during the session.
The Reporter – one who never runs out of news or gossips to share and becomes the focal point of attention.
The Silent Killer – one who doesn't seem to get intoxicated despite downing several rounds of liquor.
The Singing Diva – one who grabs the microphone in a karaoke and gets to sing most if not all songs.
The Crying Lady – one who can easily get sentimental when drunk and cries during the session.
The Caregiver – one who assists someone who gets wasted, accompanying pals to the bathroom to vomit.
The Ninja – one who used to be sitted next to you but suddenly disappears without informing the group.
The Dog – one who shows up even though not invited to the drinking session.
The Call Center Agent – one who speaks fluent English when inebriated.