Ingredients:
Cooking oil for frying
2 medium size fish (tilapia, labahita, salmon, galunggong) – cleaned and washed.
salt to sprinkle into the fish (asnan nyo muna)
2 knobs ginger, sliced thinly
10 cloves garlic, minced
1 large yellow onion, peeled and thinly sliced.
2 cups pineapple chunks – reserve the juice
1 small carrot, peeled and thinly sliced.
1 cup pineapple juice reserved
1/4 cup soy sauce
1/4 cup brown sugar
3 tbsp banana ketchup
1/2 cup water
1 red, green and orange bell pepper, seeded and sliced thinly
2 tbsp cornstarch dissolved in 1/4 cup water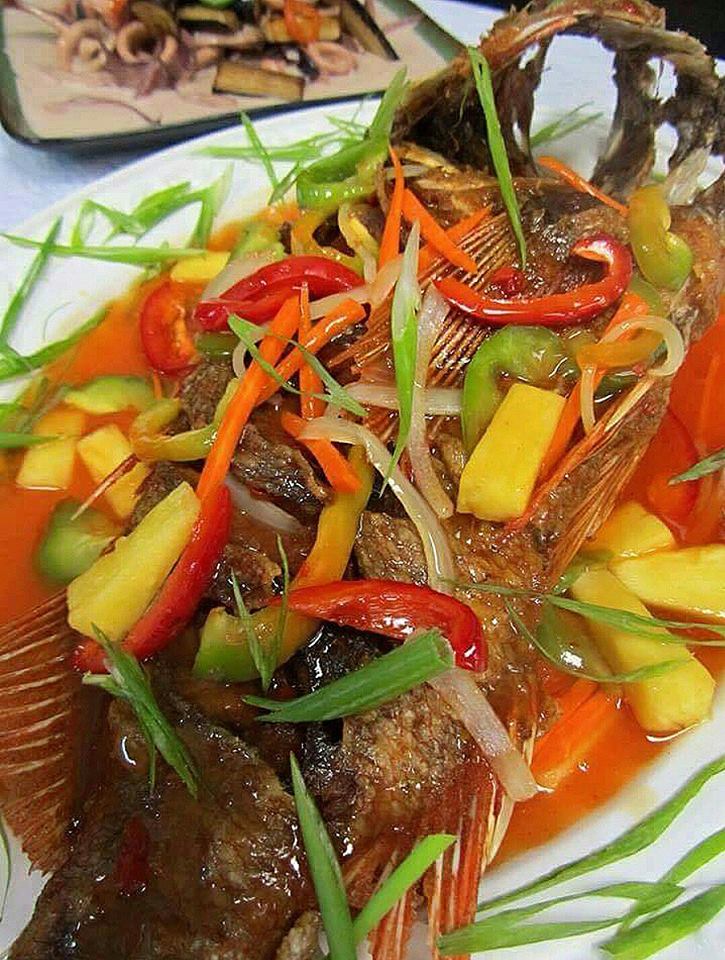 Cooking instructions:
Wrap fish with salt and then fry until it becomes crispy, golden brown. Set aside.
Remove the frying oil and leave about 2 tbsp to continue cooking with the rest of the ingredients.
Saute ginger, garlic and onion.
Add drained pineapple chunks and thinly sliced carrots.
Add pineapple juice, soy sauce, brown sugar, banana ketchup and water. Stir the mixture and let it boil.
Add red, green and orange bell pepper strips.
Season with salt and pepper.
Add cornstarch mixture if you want to make the mixture thick.
Place mixture over fried fish.
Garnish with scallions then serve.