Pinakbet or pakbet is contracted from Ilocano word pinakebbet, meaning "shrunk" or "shriveledis. It is  a popular Ilocano dish, from Northern regions of the Philippines.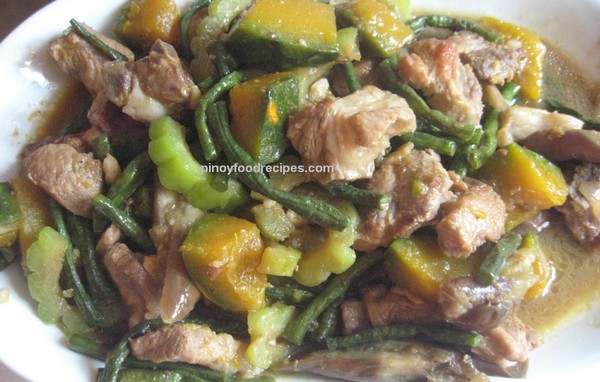 The vegetable dish pinakbet is more than a regional cuisine. There are many versions of cooking this Filipino dish.
Ingredients:
200g string beans, cut into 2 inches long
300g squash, cut into cubes
400 grams pork with fat, cut into pieces
2 eggplants, sliced diagonally
1 Ampalaya (bitter melon), sliced same with the eggplant
5-6 pieces of okra, cut diagonally into two
1 head garlic, minced
2 shallots, diced
2 tomatoes, sliced
5 tbsp shrimp paste (bagoong alamang)
2 tbsp cooking oil
Seasoning:
Procedures:
Heat oil in a large casserole or a deep skillet. Put pork and cook until it turns slightly brown. Set aside and live the oil.
In the oil saute minced garlic, onions, and tomatoes. Add shrimp paste (bagoong alamang) and fish sauce. Keep stirring then pour 1 cup of water and bring to boil.
Add squash, string beans, and okra, stir-fry for a minute or two, and cover it with the lid around 2 minutes then add the rest of the vegetables. Put a little bit of salt to taste. Gently stir to combine.
Lower the heat and simmer vegetables until it is tender. Season it with few salt or shrimp paste if it is necessary.
Take off from the heat and transfer it immediately to the platter. Serve hot.
Tips:
Don't overcook and don't make it too salty.