The word beef steak has several meanings: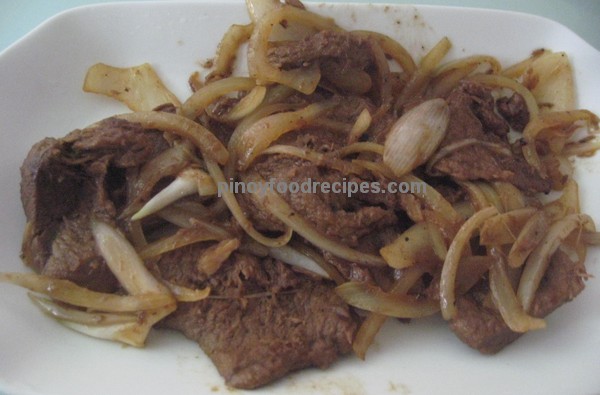 Ingredients:
3/4 kilo beef ( lean)
4 tbsp soy sauce
2 tbsp lemon juice
3 gloves of garlic (minced or sliced)
1/2 tsp ground black pepper
1 white onion ( sliced)
4 tbsp cooking oil
Procedure:
Wash and cut up the beef into about 1/4″ strips or thin sliced.
In a bowl, mix soy sauce, garlic and lemon juice. Taste it and adjust it later while cooking the meat and add the necessary to add.
Season the meat with ground pepper.
Add meat to soy sauce mixture and stir to let it soak up the marinade evenly for about 30 minutes to 1 hour.
Heat wok and add 1 tbsp of cooking oil to saute slice onion a bit then take aside.
Add the remaining cooking oil. Pan-fry the beef until a little bit brown on both sides.
Pour the marinade sauce int the wok and bring to a slow fire to let it simmer until the meat thoroughly cooked.
Taste it and adjust the sauce. It's either the soy sauce or lemon juice or to suit your taste and cook a little bit more.
Put the beef in the platter and arrange the slice onion and pour all the remaining sauce on top.
Serve it while it's hot and with rice.