Ginataang Mongo with Dilis (Anchovies)
Thinking of a very Filipino lunch or dinner offering? Ginataang mongo is one of the safest bet.
This is a spectacular dish for us Filipinos not only because it consists of ingredients that are so familiar to us, but also the nutritional value they bring to the table. That puts a positive spin to us who may be consuming too much of red meat which may have adverse health effects.
This version I'm making  is a bit different from the conventional way of cooking it. Often times, dilis (anchovies) blends well with  coconut milk. But instead of ginisang (sauteed, stir-fried) mongo, I did a ginataang (stew with coconut milk) dilis.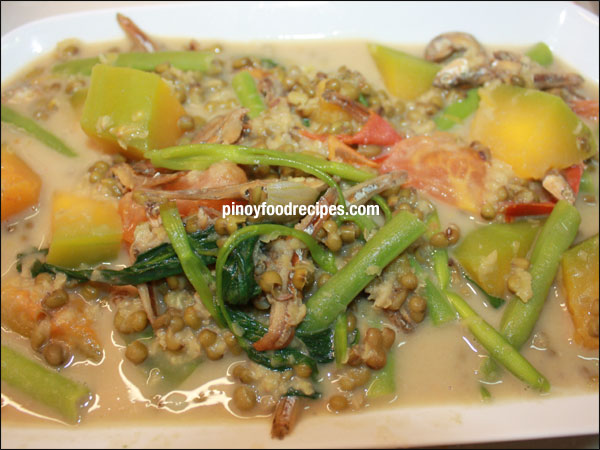 Ingredients:
300 g green beans (mung beans)
2 gloves of garlic,m minced
2 shallot, minced
1 big tomato, sliced
2 tbsp vegetable oil
string bean cut into pieces
squash, peeled and cut unto cubes
spinach
3 tbsp fish sauce
1 tin of coconut milk
100 g of fried dilis
Cooking Procedure:
Wash beans with a tap running water and wash thoroughly.
In a casserole, boil at least 2 liters of water and add mung beans. Simmer it at least 20 minutes roughly until soft. Add water if it is necessary.
In a shallow cooking pan, add a little bit of oil and fry dilis until it turns to brown. Set aside.
In a big wok, heat cooking oil and saute garlic, onion, and tomato. Keep stirring until nice fragrance occur.
Pour green beans, string beans, and sliced squash. Simmer it for at least 5 minutes.
Add fried dilis, coconut milk, and spinach. Let it boil for another 5 or more minutes until they all cook.
Season it with fish sauce.
Cooking Tips:
Make sure your boiled monngo is not a soupy type and just enough watery.
Do not burn when frying the dilis and so it will not give you a bitter taste. Keep stirring. Do not overcook as well.
Do not over cooked the vegetables.
You can add any green vegetables such as cabbage, malunggay, dahon sa ampalaya, ampalaya, sayote, and many more.