Tell me I'm crazy, but it's true. I created another version of adobo which also makes use of okra as main ingredient. This is unusual and uncommon recipe's that I cooked. Believe it or not, I found it very delicious.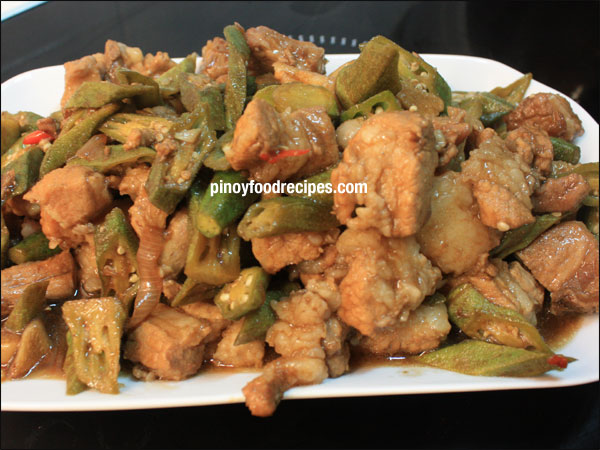 Ingredients:
500 g of pork spareribs, cut in to a small chunk
2 gloves of garlic, minced
2 bundle of okras, sliced
2 shallots, sliced
1/4 cup vinegar
2 tbsp. cooking oil
1/8 cup soy sauce
Salt and pepper to taste
1 long chili, slice thinly
Cooking Procedure:
Wash pork spareribs and drain.
Wash and slice okra and let it also drain.
In a big wok, saute garlic and shallot with a hot cooking oil.
Add spareribs, saute for a while. Then add soy sauce. Let it simmer in a low heat for 15 minutes. (Add a little bit of water if it is necessary). Pour vinegar and let it boil for a while.
Add sliced okras and let it boil together in a low fire for about 5 minutes or more Adjust the fire into medium heat and keep stirring until the sauce is thicken..
Season to taste of salt and pepper and add vinegar or soy sauce if it is necessary,
Garnish with thinly slice chili red pepper.
Cooking Tips:
Wash okra thoroughly before slicing instead of after slicing.
Add more chili for a better spicy taste (obviously).
Instead of okra, you can also use an eggplant with same procedure.