The Philippines is a generous host to those with sweet tooth. That's because there are just so many types of traditional Filipino desserts you can try out. Plenty of cultural influences to take credit, combined with Filipino flair and creativity, has resulted in a wide variety of Pinoy sweets sure to soothe that sugar craving of yours.
So set aside that chocolate cake, doughnuts or ice cream, you'll find them easily. Instead, try these wonderfully made Filipino desserts.
Puto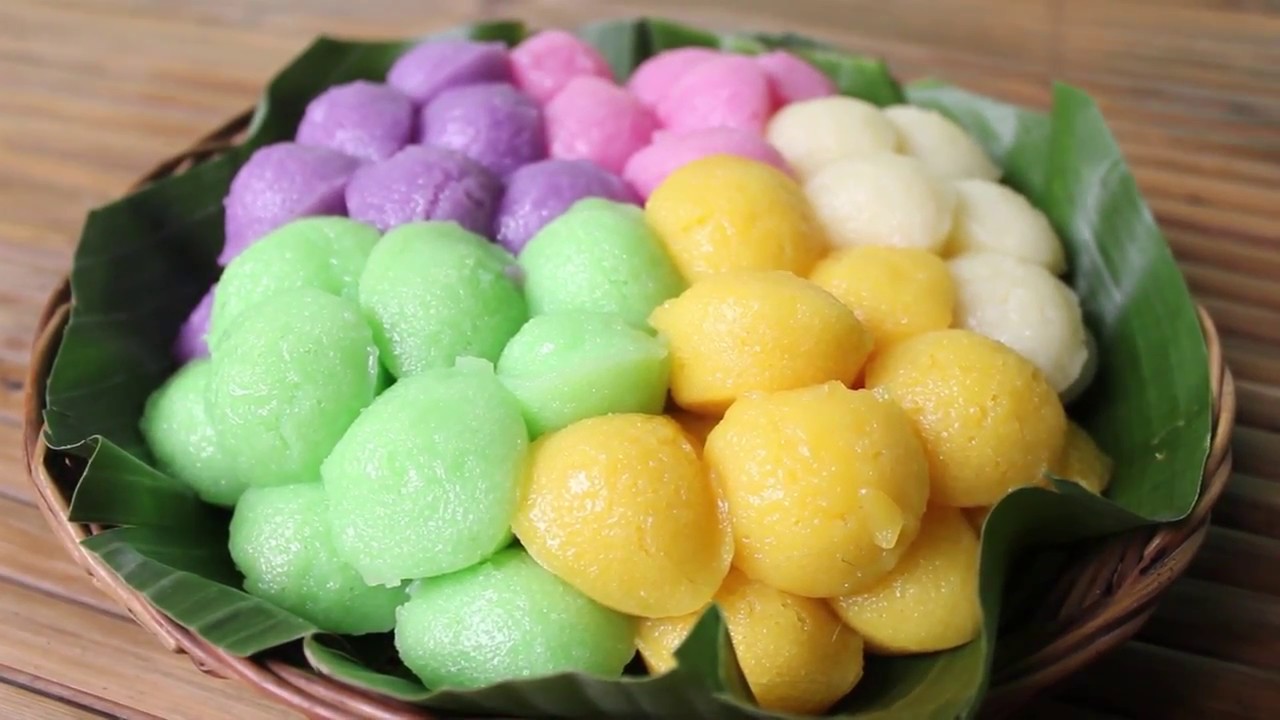 Puto is a quintessential Filipino dessert; made of simple ingredients and prepared in a simplistic way. It's a steamed rice cake that can be consumed by itself or garnished with cheese or butter to add flavor. It is also a popular tandem with dinuguan. Evolving from its white original makeup, this spongy snack now comes in a variety of flavors, from pandan to ube to cheese, which make for a vibrantly colorful display when sold in bakeries and supermarket stalls.
Leche flan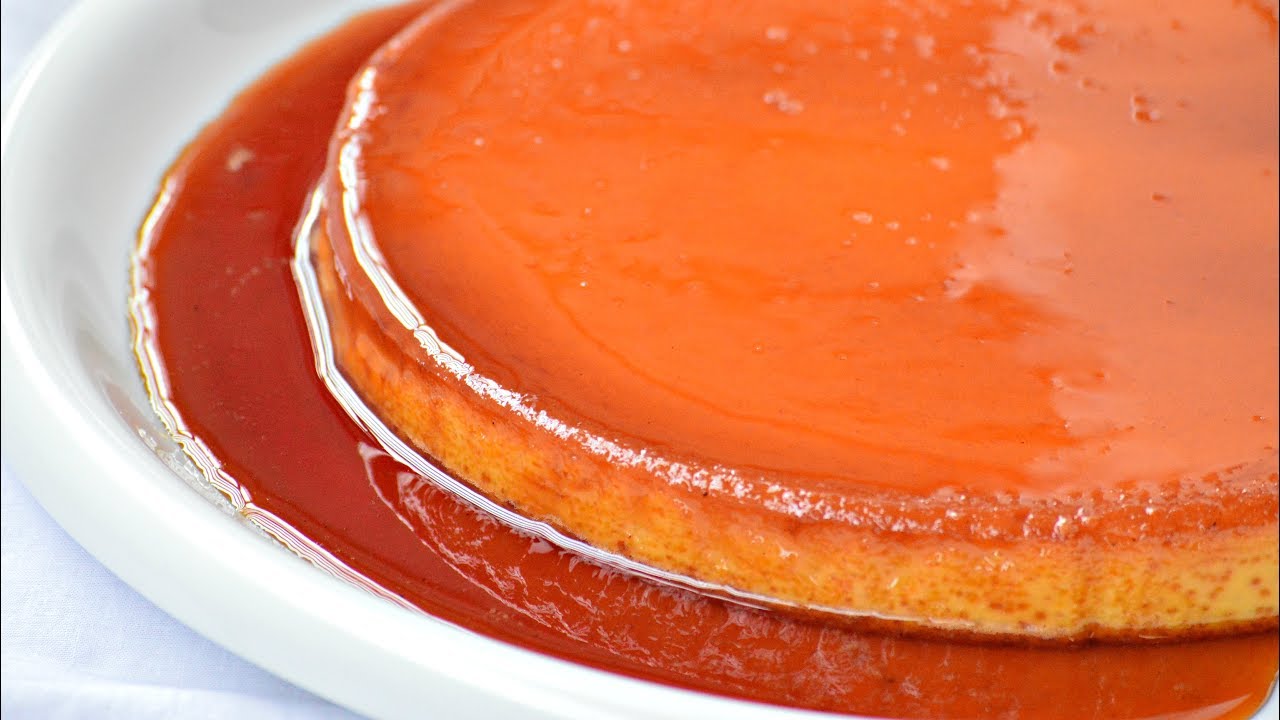 The Filipino version of crème caramel has one of its two main ingredients in its name. Leche, the Spanish word for milk, is one and others include egg yolk, evaporated and sweetened condensed milk. It is a custard dessert with a layer of clear caramel sauce, as opposed to crème brûlée which is custard with an added hard clear caramel layer on top.
Halo-halo

Halo-halo (literally translated as mix-mix) is a crowd favorite, thanks to the hot climate of the Philippines. It is a melange of shaved ice, sweet red bean, sweet white beans, coconut gel, sago pearls, cut jackfruit, evaporated milk and ube ice cream. The list could go longer as there's no limit as to what you can add to enhance halo-halo's flavor.
It has become so popular that popular fastfood chain Chowking has made halo-halo a permanent fixture in its menu.
Taho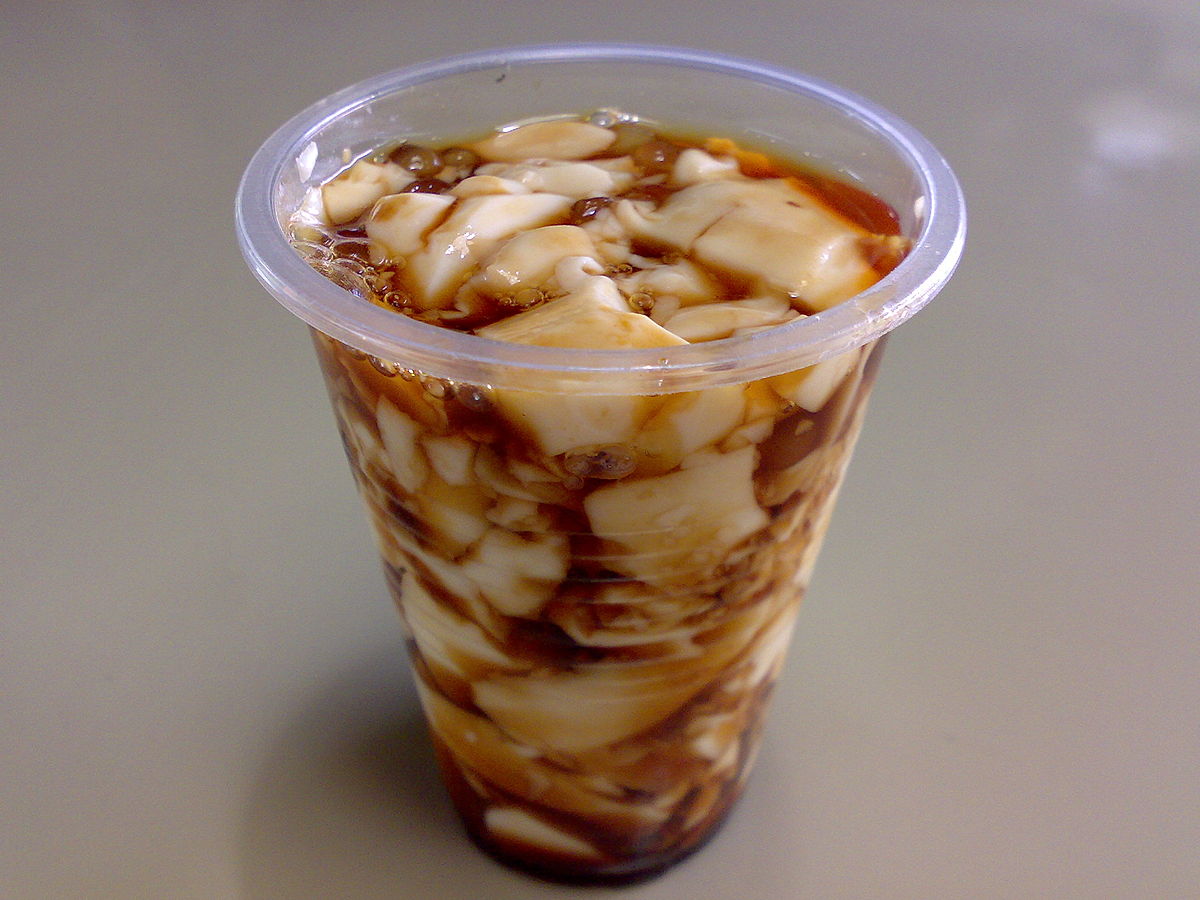 Taho is a snack food made of fresh soft tofu, arnibal (a mixture of brown sugar and water), and sago pearls. This type of Filipino dessert is sold by taho peddlers carried in a pair of aluminum buckets in a yoke at markets or busy neighborhood streets with a familiar ringing call "Tahoooo!".
This warm concoction is a perfect welcome to start the day especially during cool mornings, but can also be consumed as a mid-afternoon snack or any other time of the day.
Kutsinta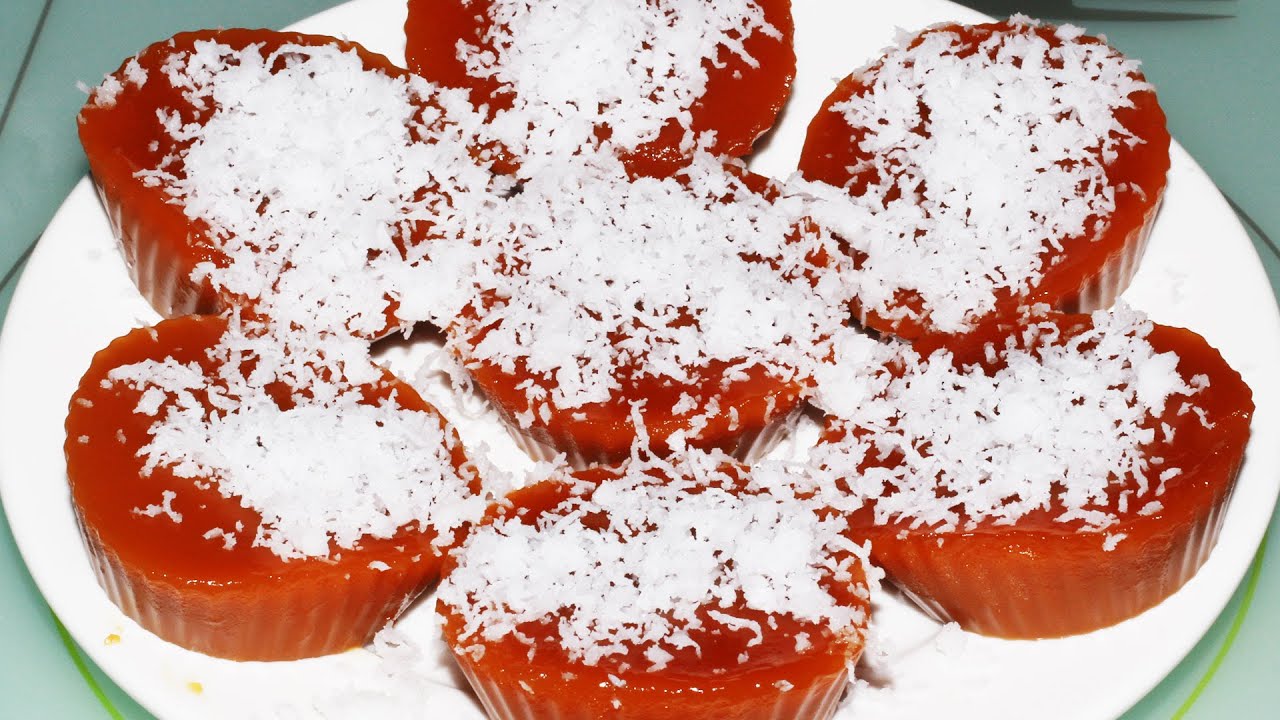 Just like puto, puto cuchinta or kutsinta is also a steamed rice cake, but has different color and texture. Unlike the soft and spongy puto, kutsinta has a sticky and slightly rubbery feel. It is a mixture of rice flour, brown sugar and lye, enhanced with yellow food coloring or annatto extract, and steamed in small ramekins. The cooked cakes are topped with fresh grated meat from mature coconut.
Turon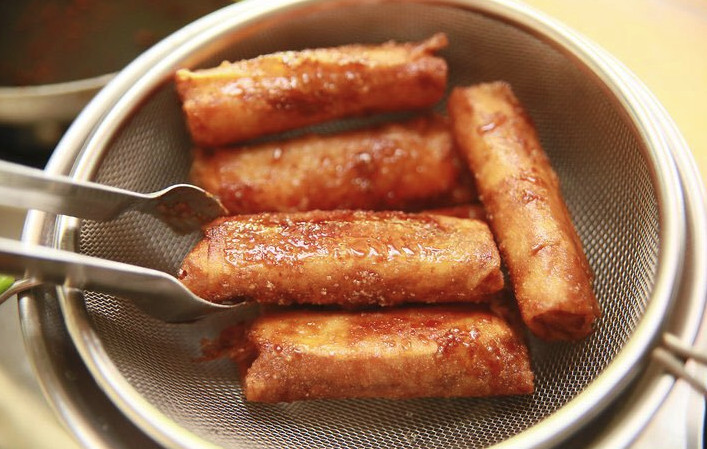 With striking similarity in appearance with spring roll, turon is also known as lumpiang saging. That's because its ingredient is mainly slices of saba banana, wrapped in spring roll, rolled in brown sugar and deep fried. Jackfruit is also added in the mix to enhance its flavor.
Turon is usually sold by streetside food vendors as a cheap merienda. But its straightforward way of cooking makes it easy to prepare at home.
Biko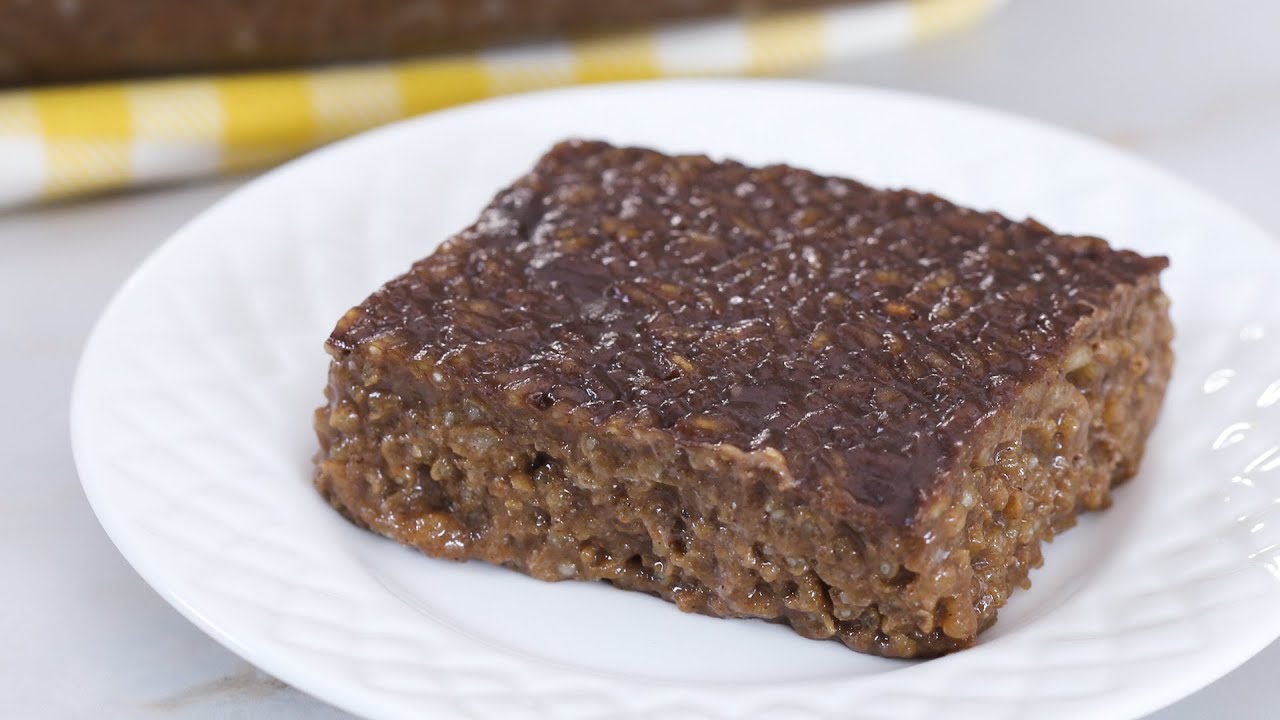 Biko (also known as sinukmani) is a sweet rice cake made of coconut milk, brown sugar (muscovado or panutsa is a better option), and glutinous rice. It is usually topped with latik or a syrupy caramelized coconut cream used as a dessert sauce. It is a type of kalamay dish and is prepared similarly, except the rice grains are not ground into a paste. They are also sometimes packaged and sold as suman.
Bibingka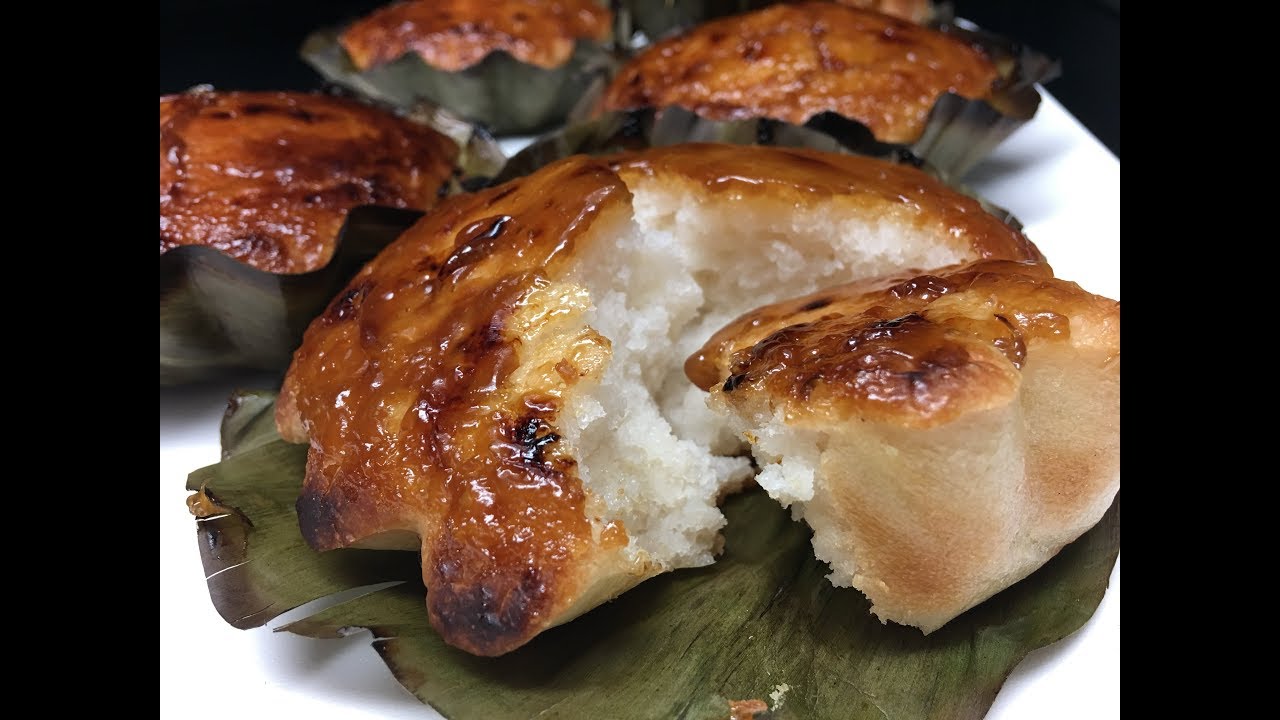 Another type of rice cake is bibingka, traditionally made from galapong (milled glutinous rice), coconut milk, margarine, and sugar. It is usually served during fiestas and during the Christmas season. It is traditionally cooked in clay pots lined with leaves. There are also other varieties of bibingka cooked differently and garnished with cheese, and paired with hot chocolate, or kapeng barako, a pure strong coffee in the Philippines.
Ginataan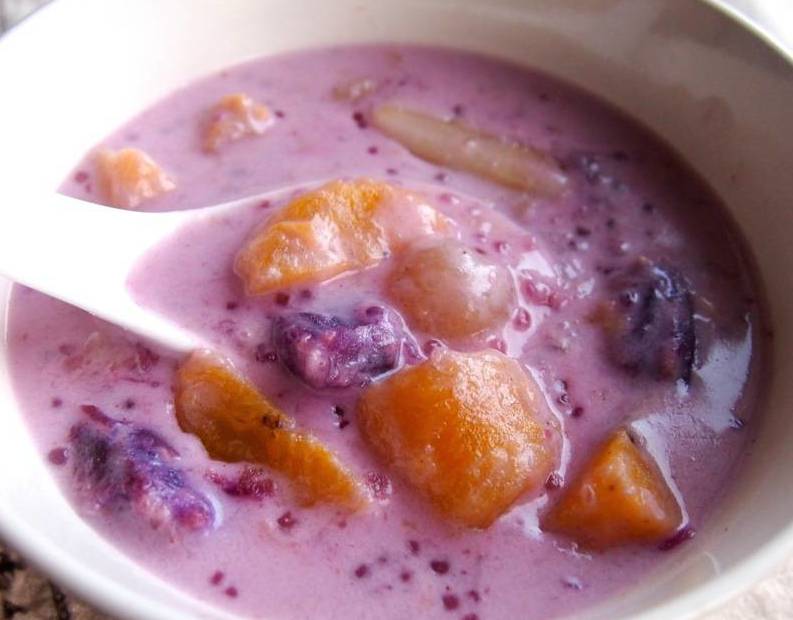 "Ginataan" refers to food cooked in coconut milk. Ginataang bilo-bilo is a sweet treat made of sticky rice balls and other of tropical ingredients such as tapioca pearls, yams, sweet potatoes, plantain bananas and jackfruit and coconut milk. Its taste can be comparable to a fruit salad, though it is best served hot.
Banana Cue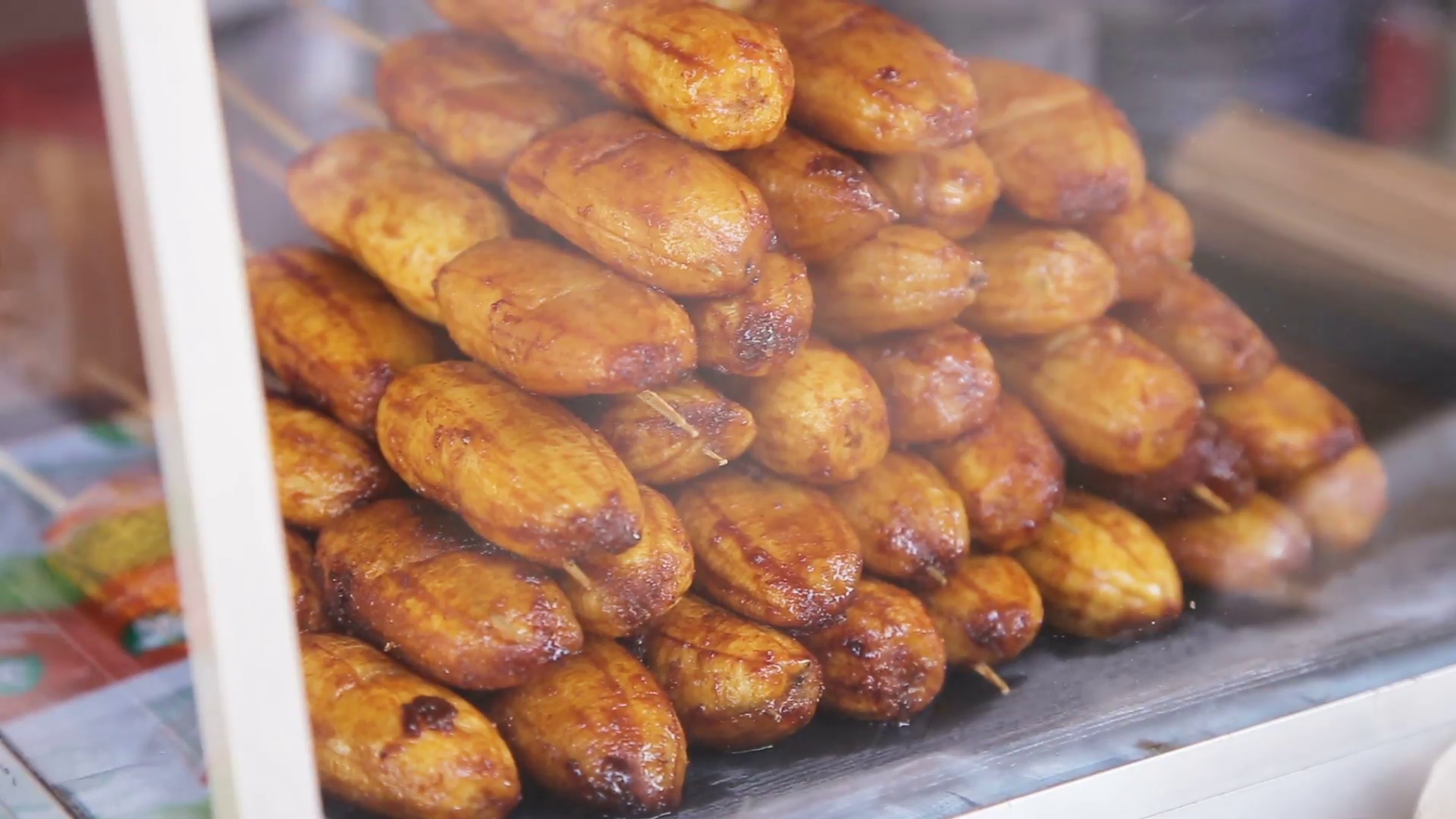 Banana cue, maruya or banana barbecue is a popular banana snack food on bamboo skewers or street food in the Philippines. Similarly cooked as turon, banana cue is even more simple to prepare, with main ingredient saba banana and minor ingredients (sugar and cooking oil plus banana skewer) comprising the whole composition. It is usually sold in streets and is a Filipino favorite as mid-afternoon snacks.
Halayang Ube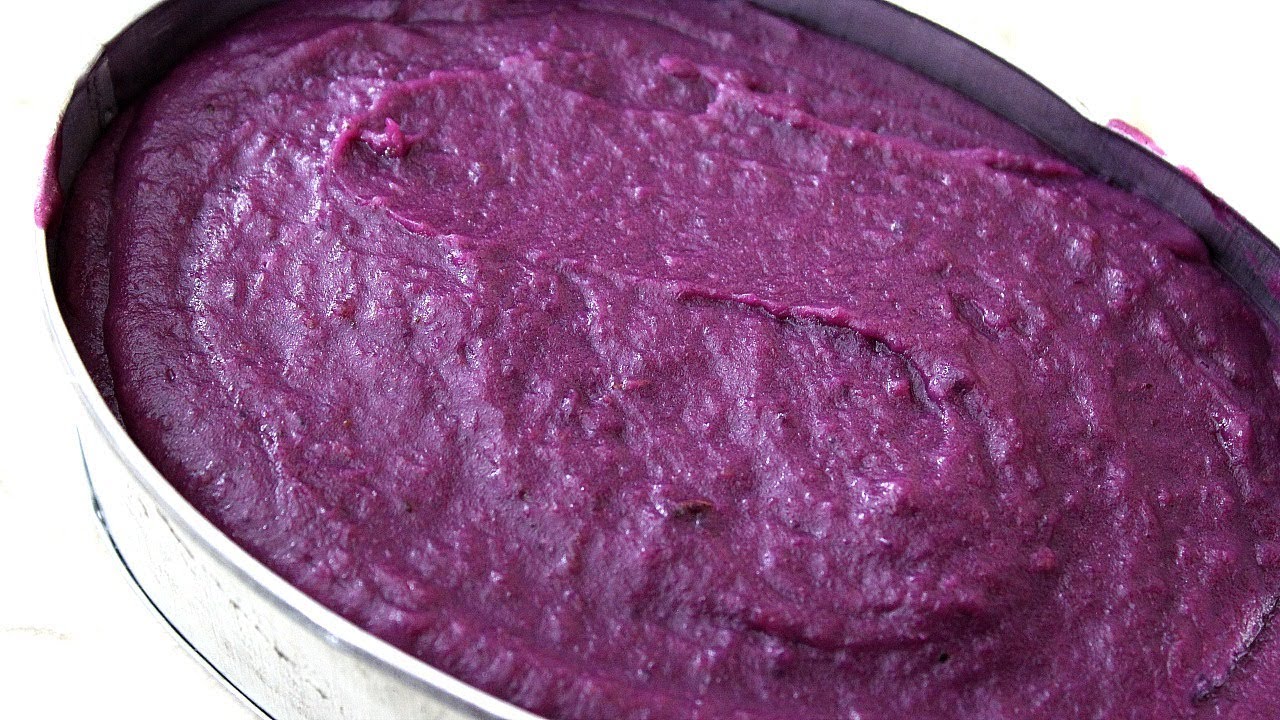 Halayang ube, or ube jam is a Filipino dessert made from boiled and mashed purple yam, mixed with coconut milk, condensed milk, cheese and butter. It can be eaten on its own or can be used as topping for other desserts like ice cream, cake, filling for hopia and so on.
Otap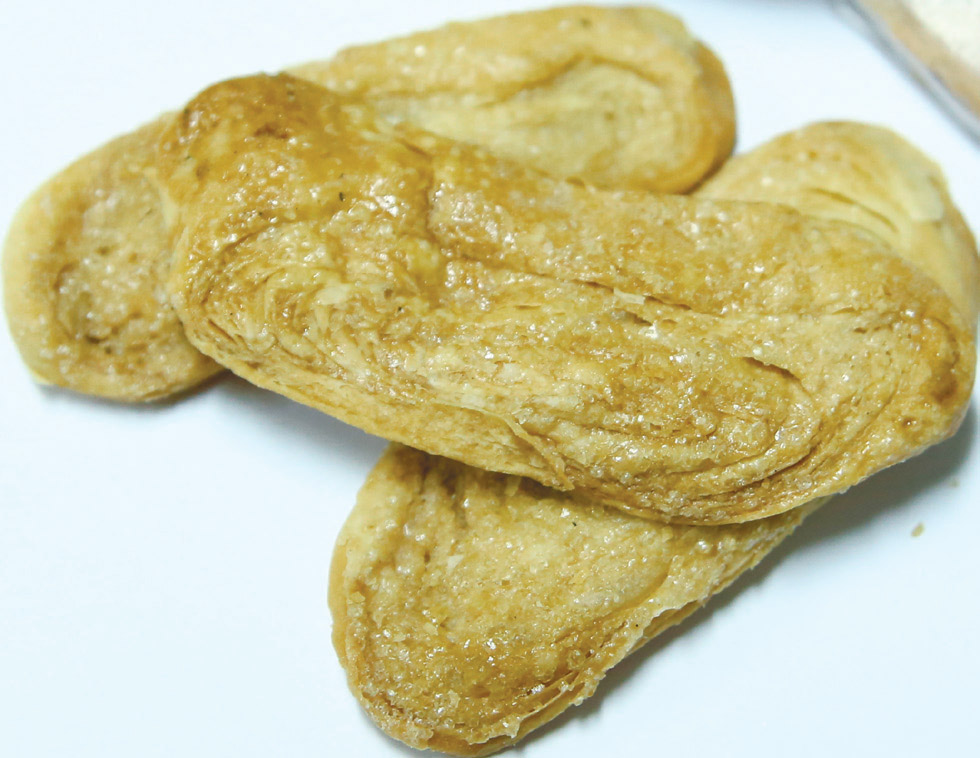 Otap (sometimes spelled as Utap) is an oval-shaped puff pastry cookie and is commonly found in Cebu where it originated. It has a flaky, brittle and crumpled surface that is sprinkled with sugar. Eating this pastry would entail cautiousness, as fragments and bits of sugar may fall on the floor as you take a scrumptious bite. It usually consists of a combination of flour, shortening, coconut, and sugar.
Bukayo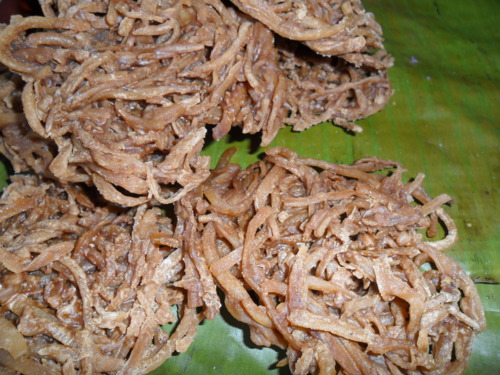 Bukayo is a sweet Filipino dessert / snack made from sweetened grated coconut strips. It is made by simmering coconut strips in a mixture of coconut water and muscovado sugar until liquid is heavily reduced, mixture is then formed into balls or flat circles and left to harden to a chewy consistency.
Ginanggang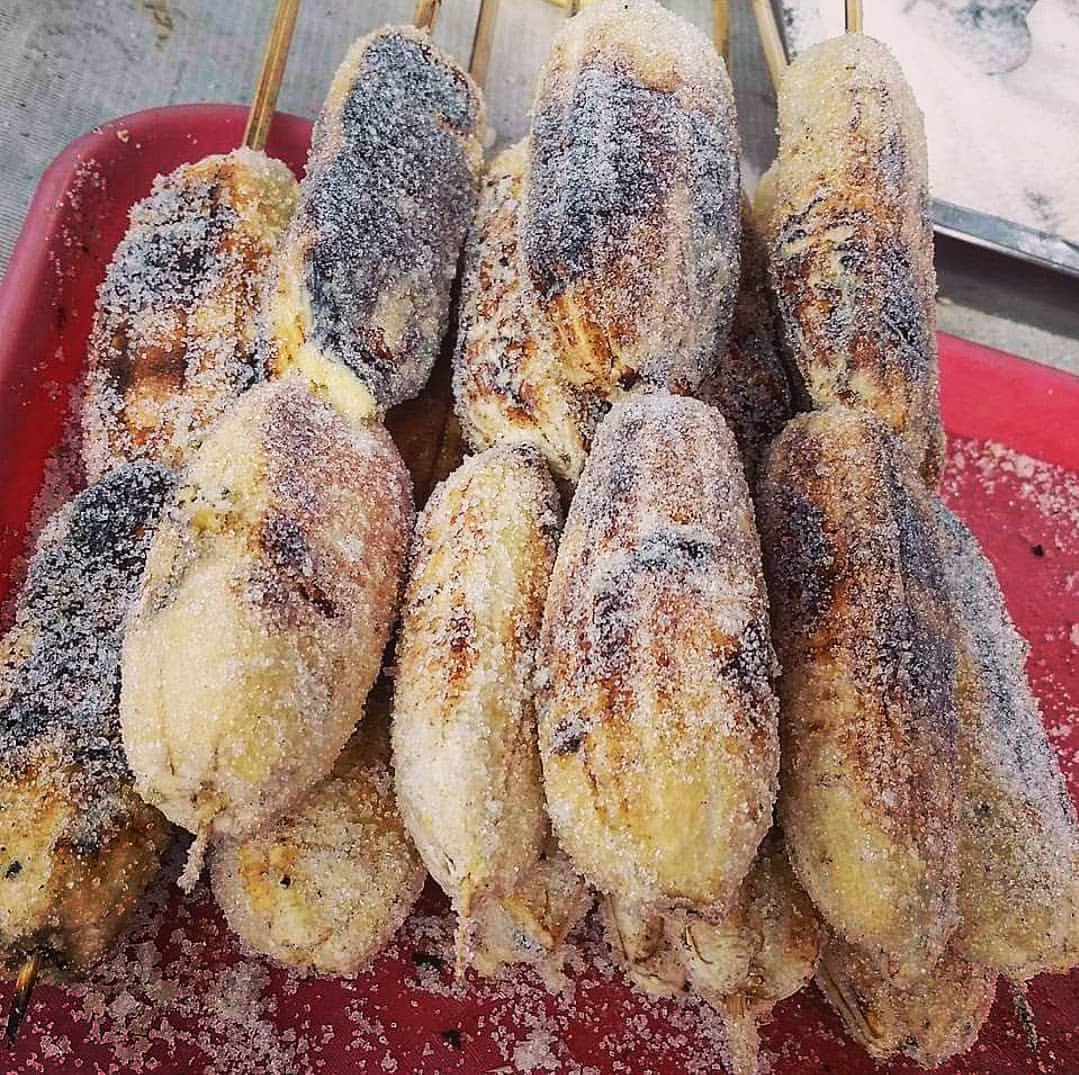 Ginanggang (also spelled guinanggang or ginang-gang) is a snack food of grilled skewered bananas brushed with margarine and sprinkled with white sugar. The name literally means "grilled" in Cebuano. Same as banana snacks maruya and banana cue, ginanggang also uses saba variety of Philippine banana. It is more frequently found in the streets of Visayas and Mindanao.
Pinoy hotcake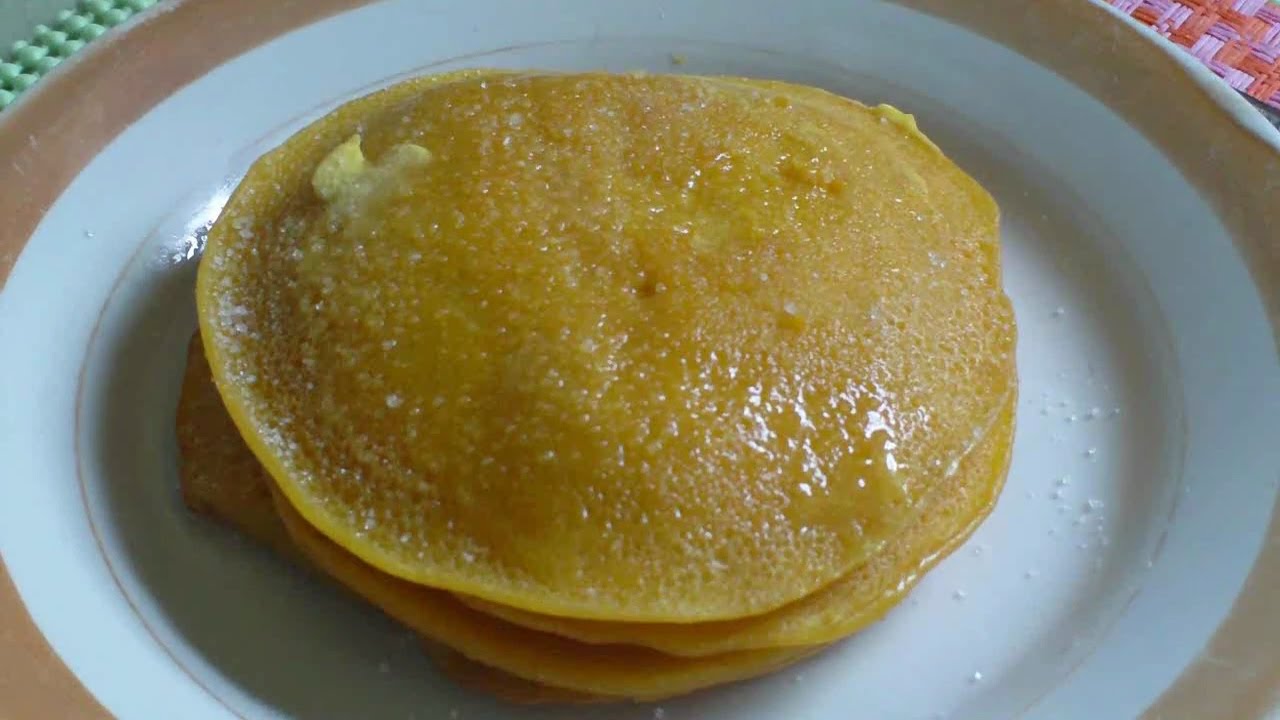 It is the Philippine street food that's best eaten hot, hence the name "hot cake". Before serving, each hotcake is slathered with margarine or butter and sprinkled with white sugar. Hot cakes are usually found on the sidewalks in the Philippines, but also easy to prepare at home.
Palitaw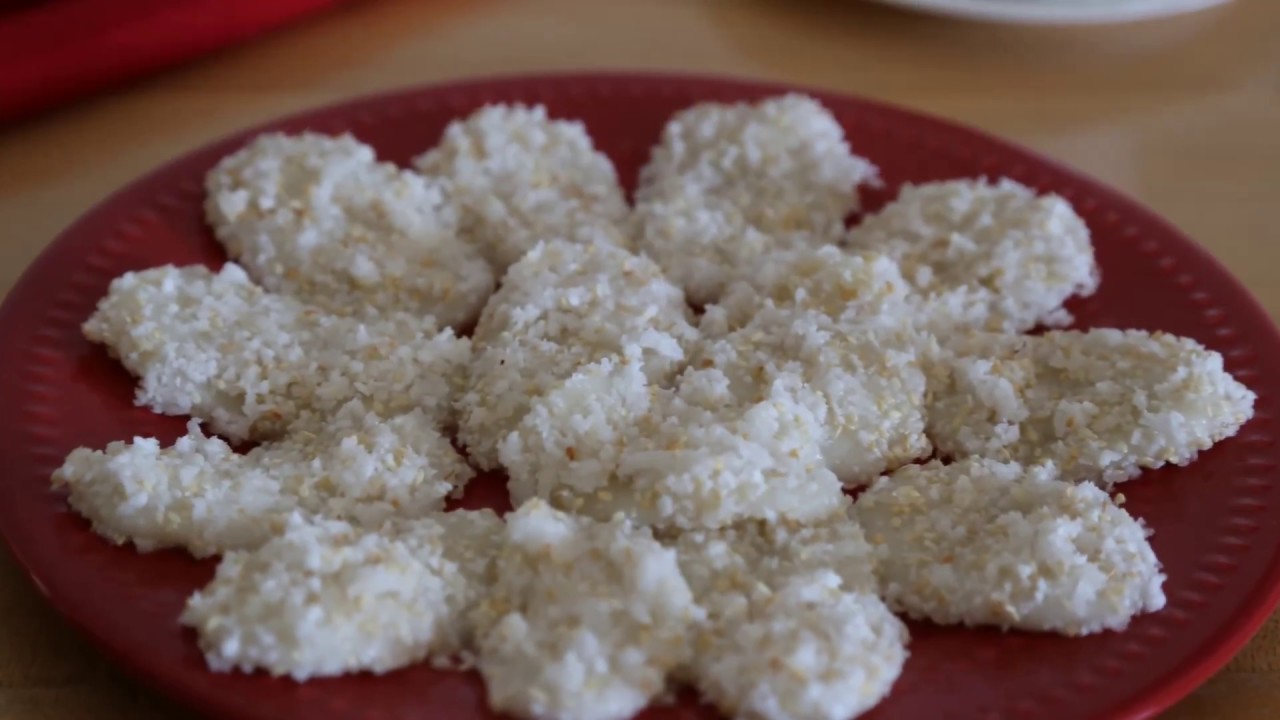 Palitaw is a flat, sweet rice cake made from washed, soaked and ground malagkit, or ground glutinous rice whose dough is formed unto thin patties and cooked in boiling oil. Although ordinary rice flour is also used in preparing palitaw, glutinous rice is a better choice. It is often garnished with grated coconut, toasted sesame seeds and sugar.
Ice candy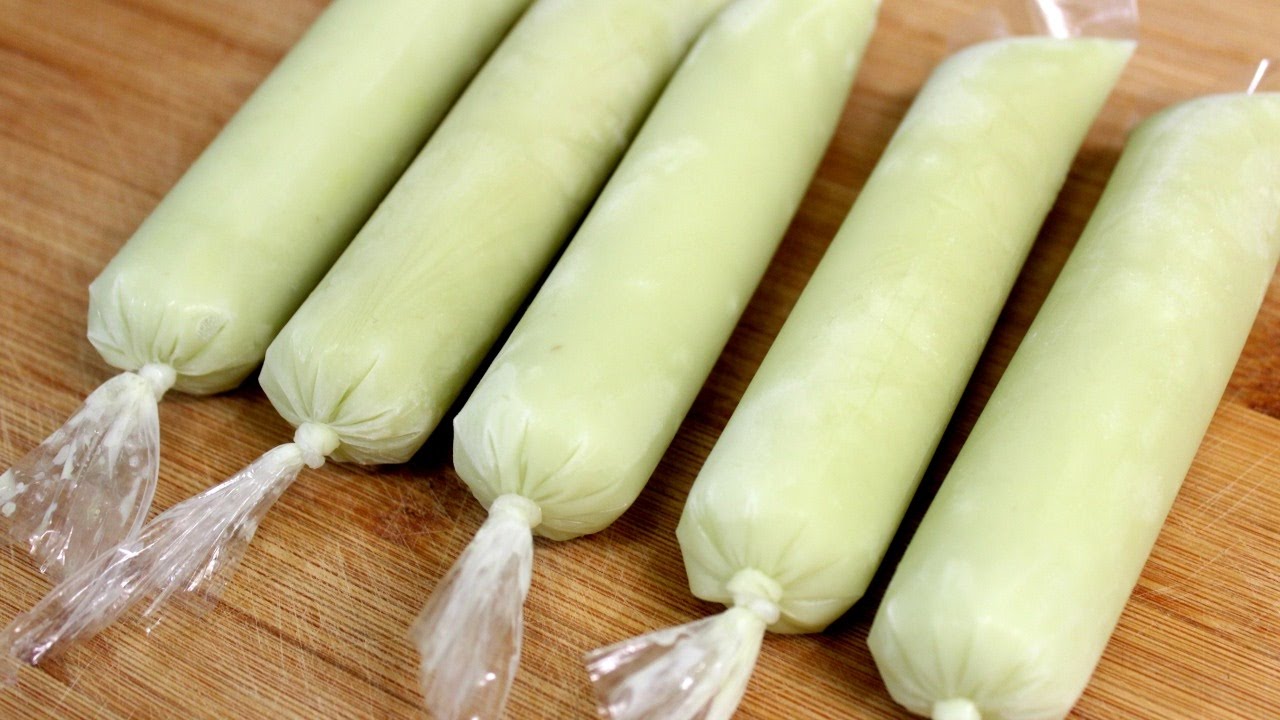 Ice candy is the handy Filipino version of American popsicle. The concoction of mango, avocado, durian, jackfruit or buko macapuno mixed with sugar and milk is packaged into small plastic cylindrical casings and stored in the freezer. Sold at sari-sari stores, it's a cheap refreshment loved by all.
Kwek Kwek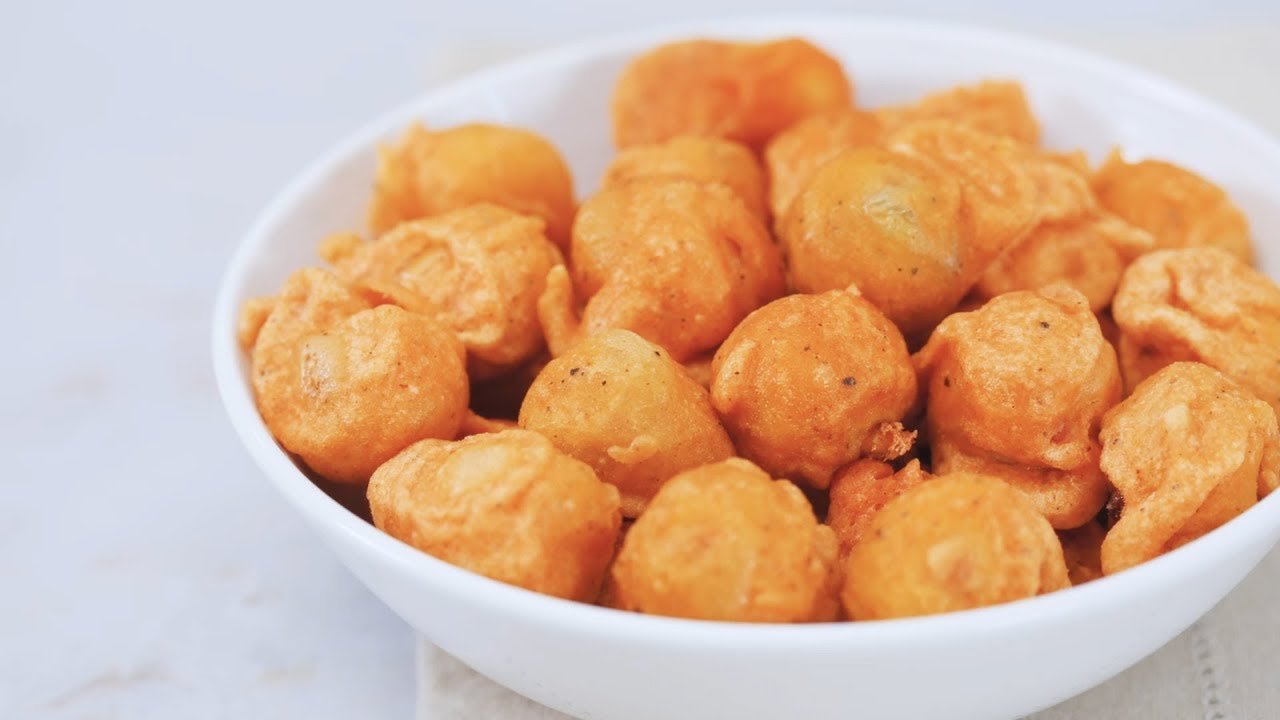 Kwek kwek, also known as tokneneng, is a popular Filipino street food made by deep-frying hard-boiled quail eggs that are covered with orange batter. It is fried until crispy, then served with a sweet-and-sour style dipping sauce.
Pastillas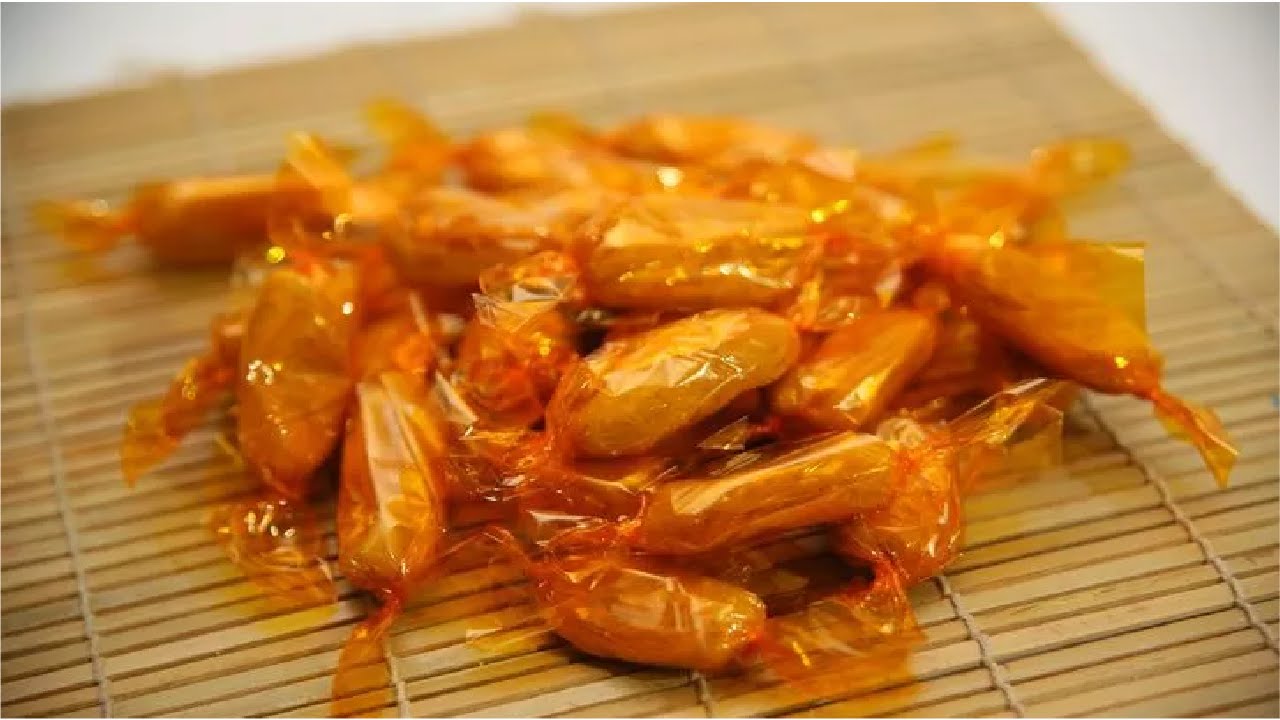 Pastillas is a milk-based sweet confectionery dessert whose origin is traced from the province of Bulacan. It is made of powedered milk, condensed milk, melted butter and grated cheese. However, an authentic ingredient consists of milk from water buffalo / carabao. Ingredients are mixed and formed into small bite-size balls or thin cylinders. Rolled in sugar and wrapped in transparent plastic sheets, it's a popular pasalubong item or sold together with bakery and pastry products.
Polvoron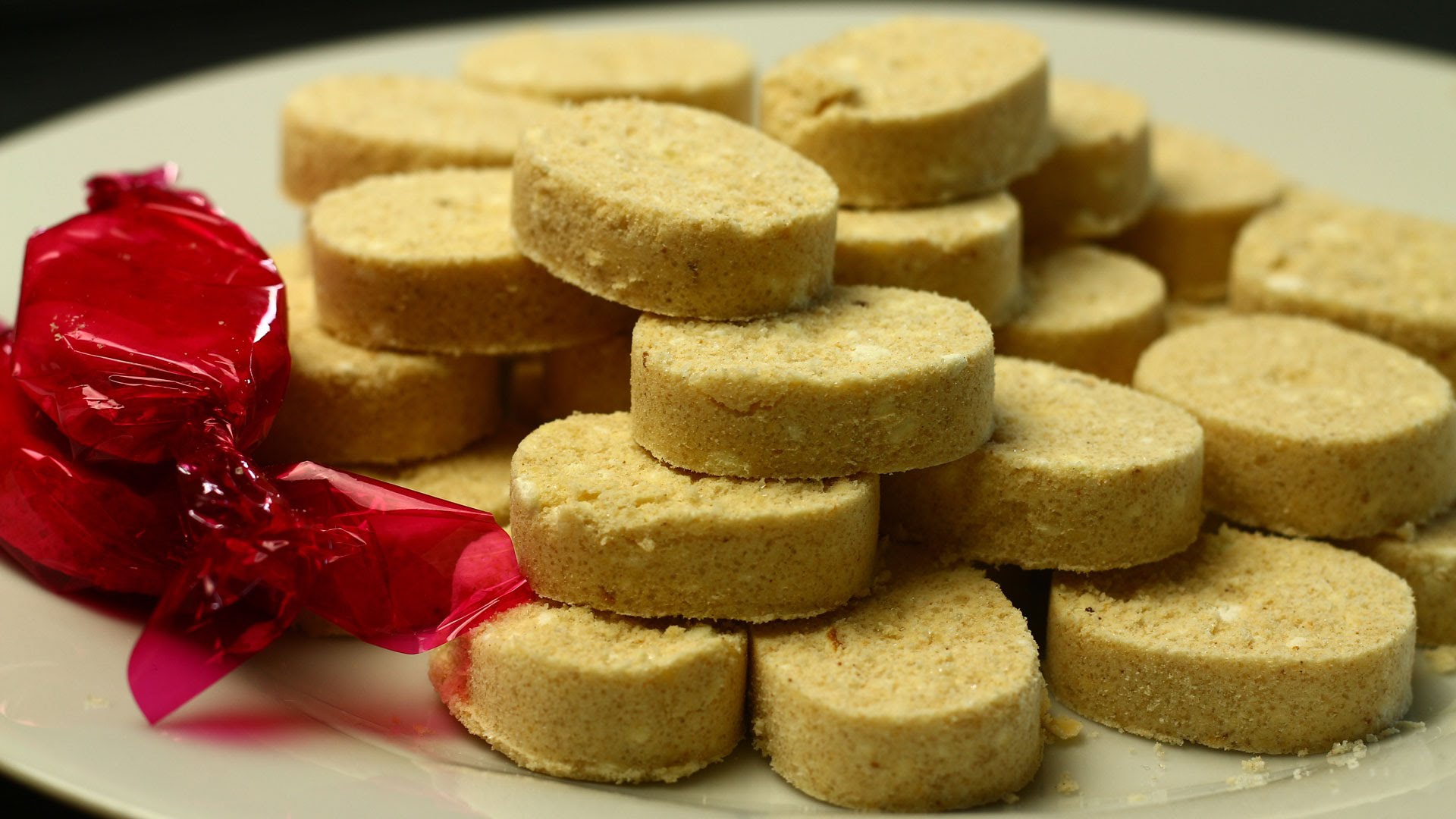 Polvorón is a Filipino-style shortbread made with brown, toasted rice flour, powdered milk, sugar, butter, and sometimes mixed with nuts. Flour is toasted over frying pan, once golden brown, it is placed on a mixing bowl to combine with other ingredients. It's a popular dessert that the renowned Goldilocks pastry chain also offers this product in its shelves.
Maiz Con Hielo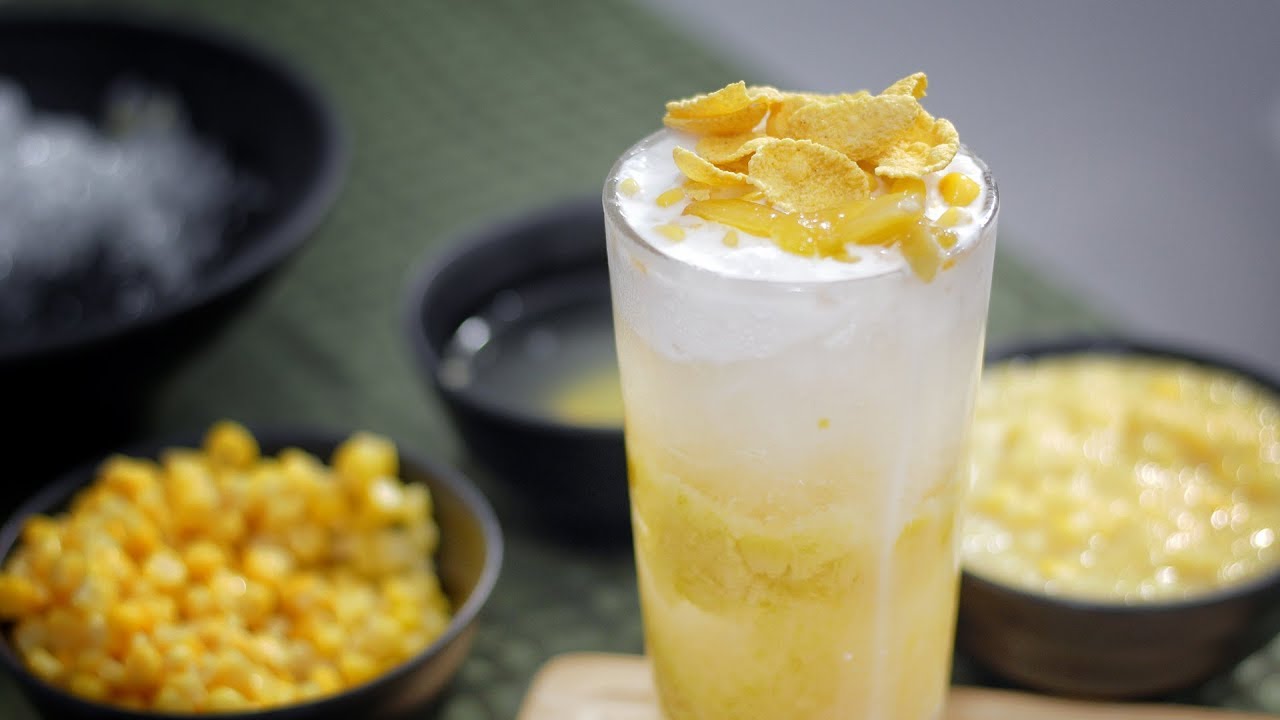 Maíz con hielo, commonly spelled mais con yelo in the Philippines, literally means corn with ice in local dialect. It is a sweet refreshment popular during hot summers. Its both the texture and creaminess makes maíz con hielo a refreshing and tasty dessert.
Suman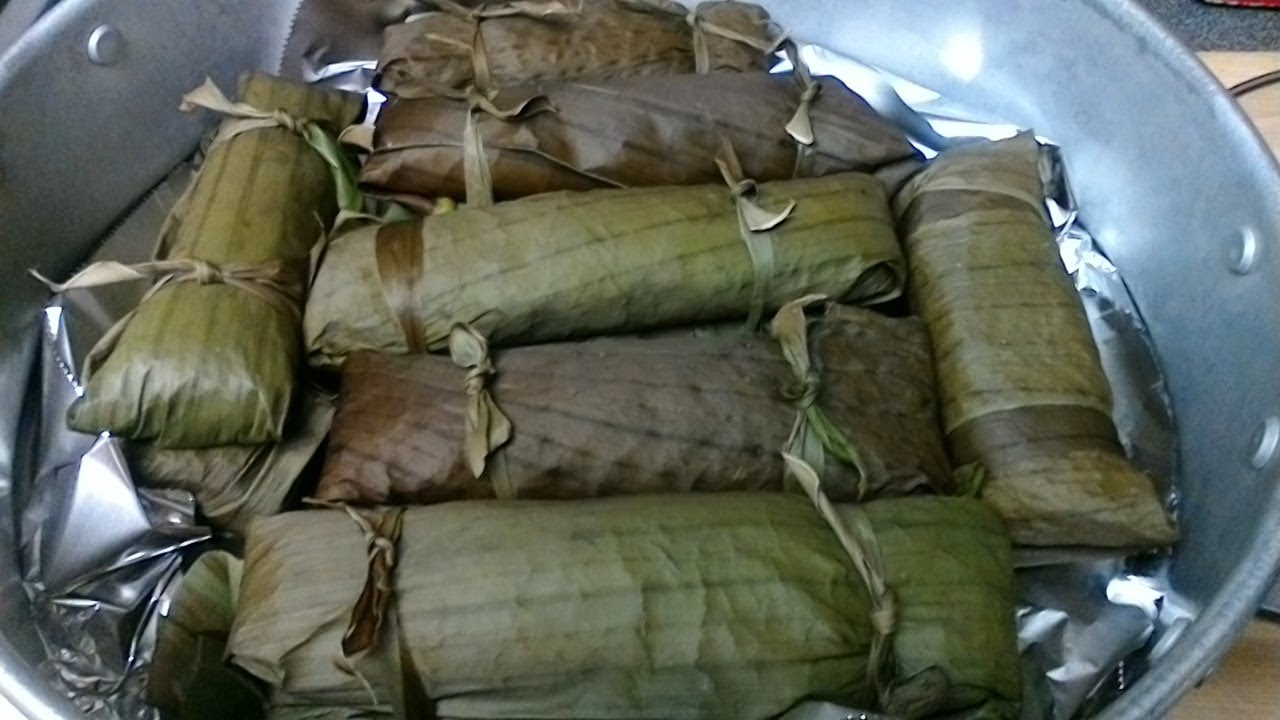 Suman is a rice cake made from glutinous rice cooked in coconut milk, often wrapped in banana leaves or buli or buri palm leaves for steaming. There are a variety of main ingredients besides glutinous rice: kamoteng kahoy (cassava), banana and more. Additional ingredients including coconut caramel sauce enhance its flavor.
Piyaya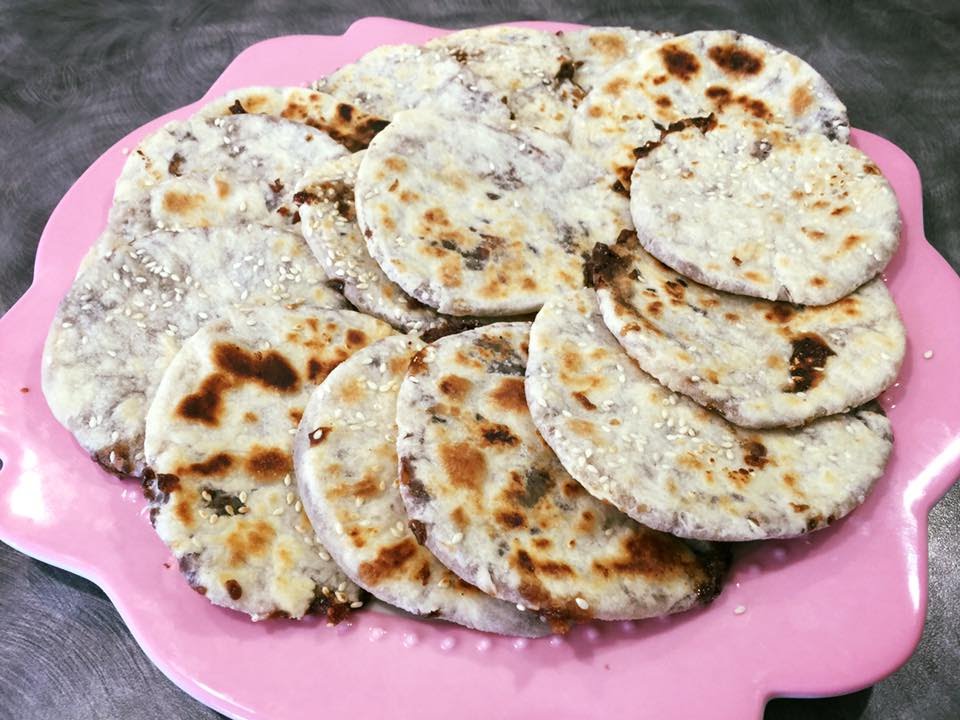 A piaya is a muscovado-filled unleavened flatbread commonly found in Negros Occidental where it is a popular delicacy. It is made by filling dough with a mixture of muscovado (unrefined cane sugar) and glucose syrup. A popular souvenir item for travelers in Bacolod and other places in the province, it is sold at pasalubong shops, transport terminals and at the airport.
Peanut Brittle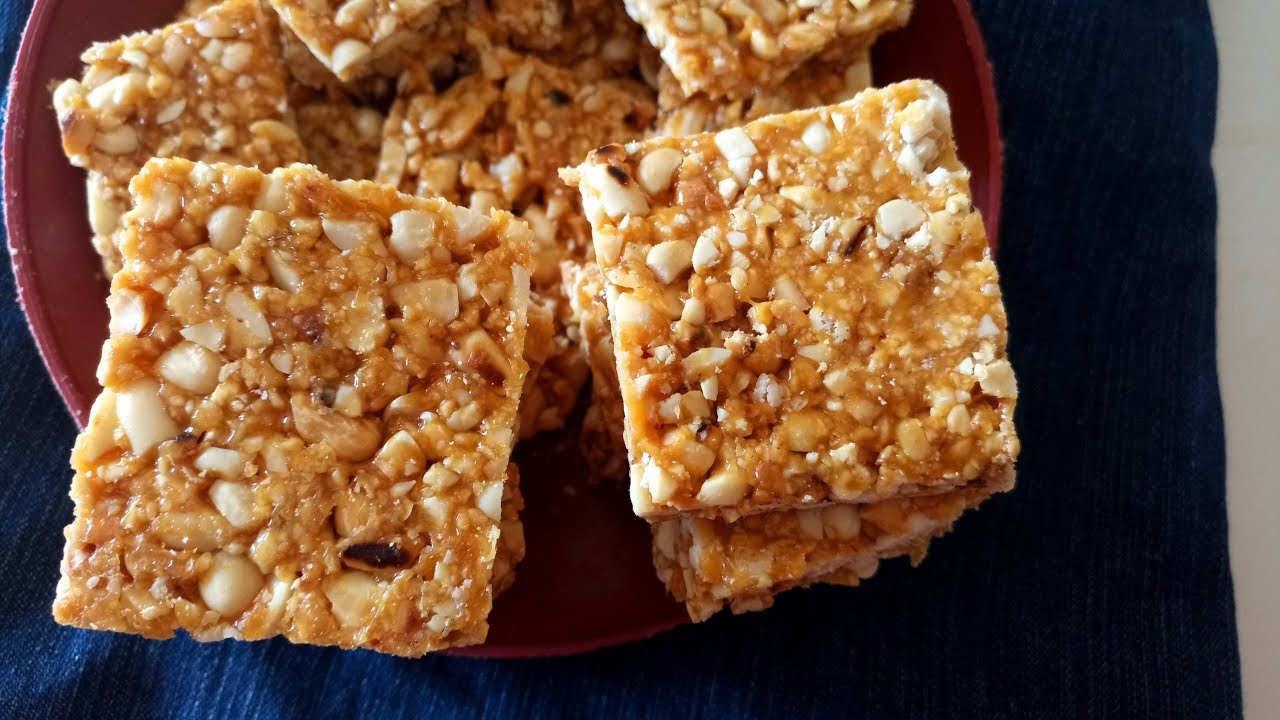 Peanut brittle is a type of confectionery popularly sold in Baguio City as souvenir food. It consists of flat broken pieces of hard sugar candy embedded with nuts such as pecans, almonds, or peanuts. It is also has variations from other countries including France, India, Georgia and Bangladesh. A mixture of sugar and water is heated to the hard crack stage corresponding to a certain temperature. Nuts are then mixed with the caramelized sugar. The hot candy is poured out onto a flat surface for cooling and when the brittle cools, it is broken into pieces.
Maja Blanca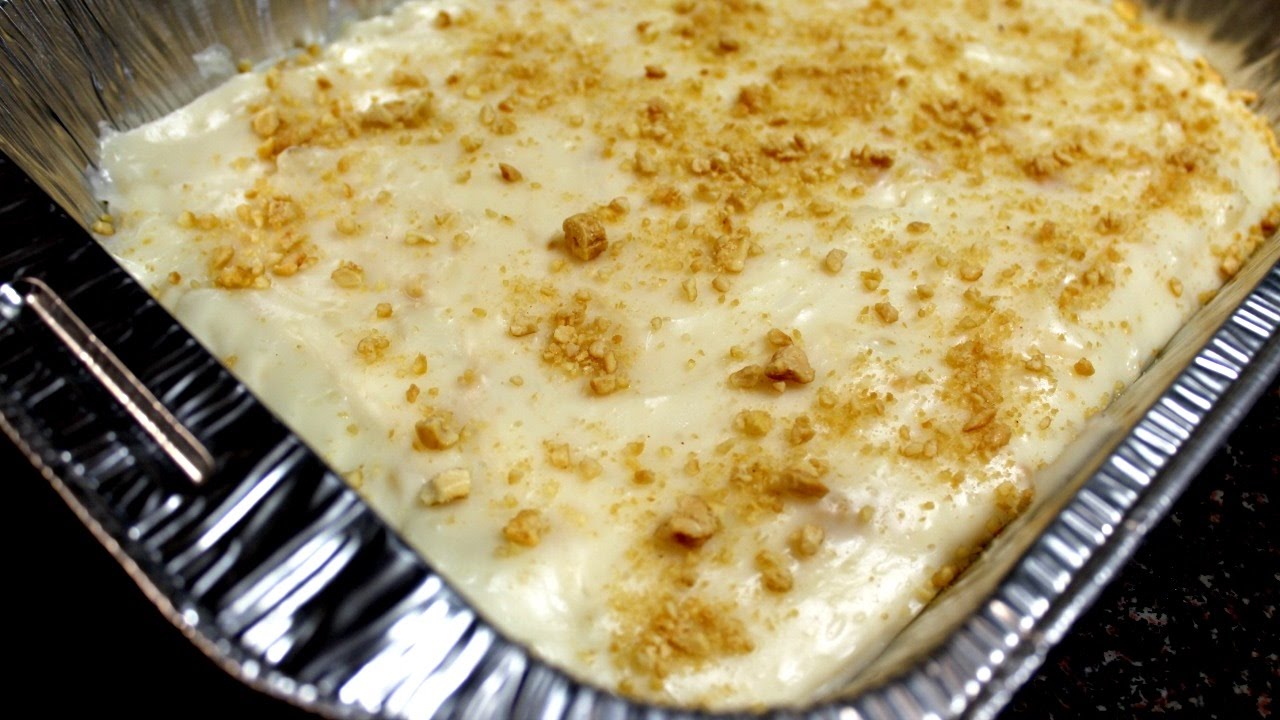 Maja blanca, also known sa coconut pudding, is a Filipino dessert made primarily from coconut milk and is often available as a home-made treat. It is usually served during fiestas and during the holidays, especially Christmas. This luscious dessert is easy to make and the ingredients are widely available.
Gulaman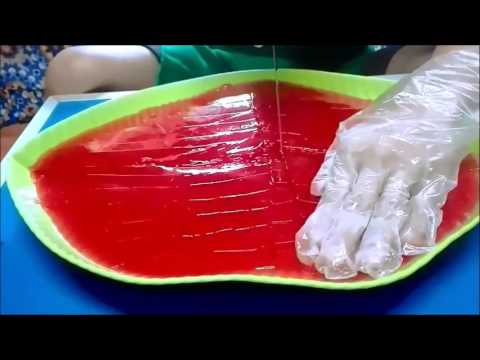 Gulaman, sometimes referred to as samalamaig, refers to the bars of dried agar used to make jelly-like dessert refreshments. They are usually found sold at roadside stalls.
Cassava Cake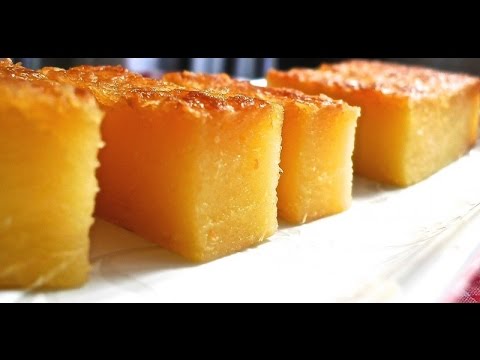 Cassava cake is a Filipino dessert made from grated cassava (also known as kamoteng kahoy and balanghoy in the Philippines). Grated cheese topping perfectly complements these sweet and tender cassava cakes.
Sans Rival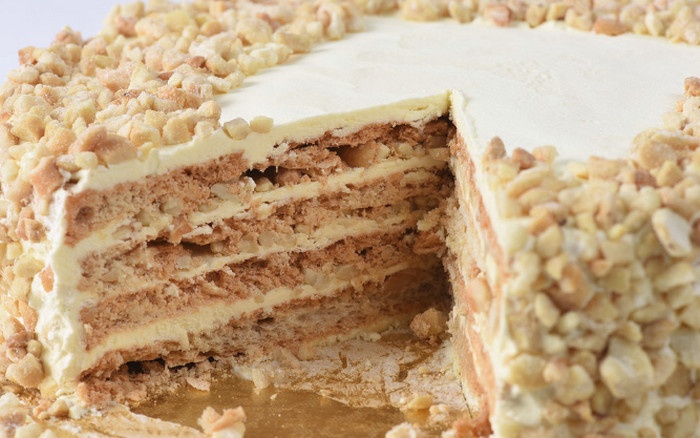 Sans rival (French for without rival) is a Filipino layered dessert cake made of buttercream, meringue and chopped cashews. The cake may be decorated, left plain or garnished with pistachios.
Tropical Ice Cream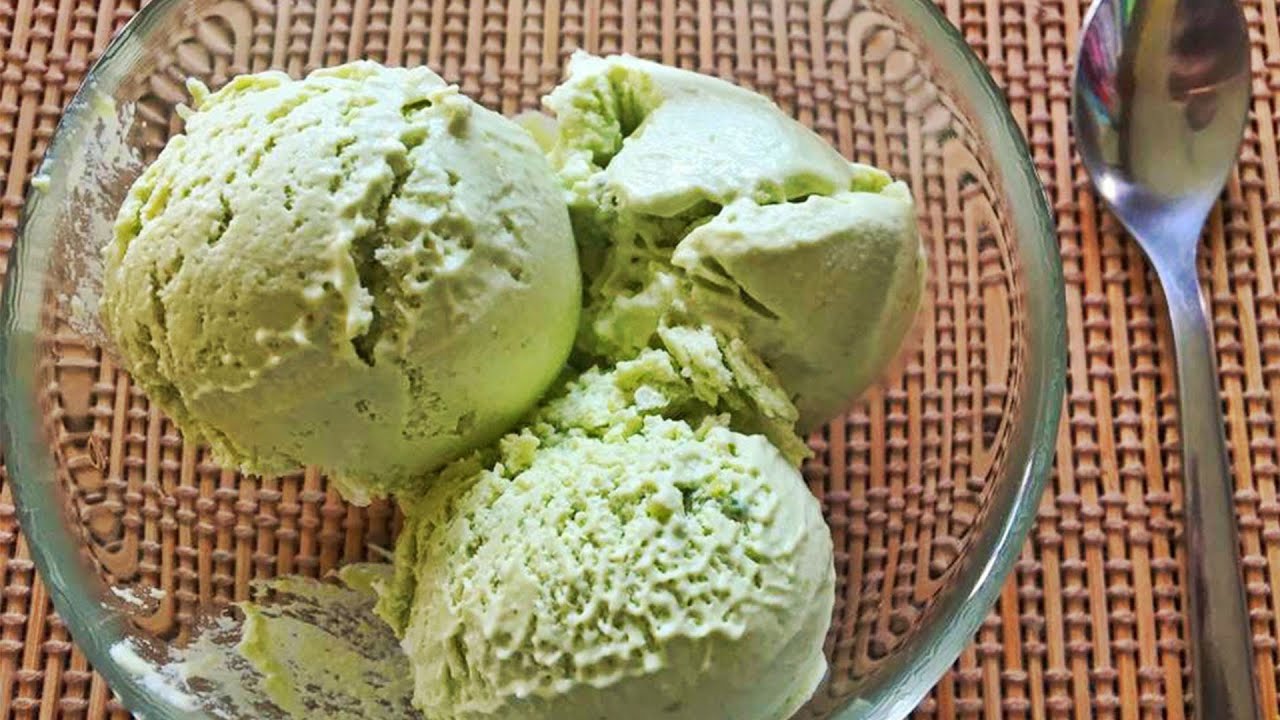 Ice cream can be deliciously made at home in the Philippines, and Filipino creativity can transform different ingredients into a sweet refreshing dessert. Ube, avocado, mango and buko are just some of the commonly used ingredients that surely is a treat — whether sweet tooth or not.