Dinuguan or big blood stew is commonly served in Filipino gatherings in the Philippines such as birthdays, fiestas, wedding, funerals, anniversaries or reunions. But they are not only served during these special occasions. Dinuguan can also be cooked for domestic consumption or bought at a nearby eatery.
I learned to cook dinuguan when I was 10 years old from my Lola Ebing and my Mama. Believe me,  the dinuguan my grandma cooks is the best seller in our barrio! Even though it is not yet cooked, people already make reservations and it is sold out just before it's ready for serving. Most of our customers are teachers and students who can't wait to have a tasty midday meal.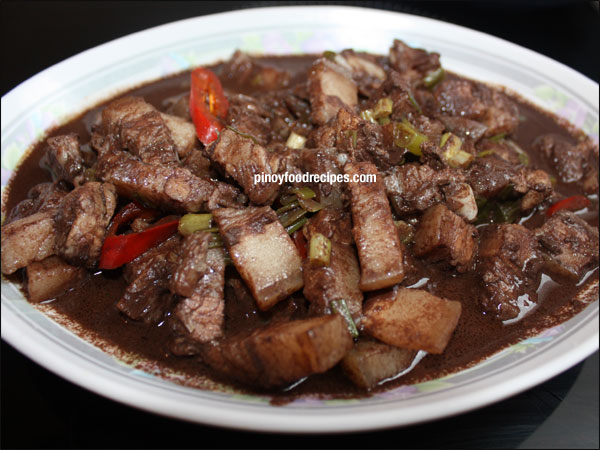 Ingredients:
1 kilo of pork belly, cut into small cubes
4 cups of pig's blood
300g pork liver, cut into small cubes
3 chili peppers , sliced
1 head of garlic, crushed and minced
3 shallots, halved and sliced thinly
1 cup vinegar
1 bay leaf
minced spring onion
1 tbsp. of vegetable oil
1/2 tbsp black pepper
1 tbsp salt
drop of fish sauce
Cooking Procedure:
In a pot, simmer pork belly for 20 minutes or more until it is tender and remove scum that rises to the surface.  Drain and cut into small cubes.
In a casserole, heat oil and saute garlic and onion for a minute or until the onion is translucent.
Add in pork, pork liver, laurel leaves, patis, salt & pepper and saute around 5 minutes.
Add in vinegar and bring up to a boil without stirring.
Lower heat and allow simmering uncovered until most of the liquid has evaporated.
Add in blood  and slice red chili. Cook for 8-10 minutes more or until consistency thickens, stirring occasionally to avoid curdling.
Garnish with minced spring onion and Serve while it hot with puto or steamed rice.
Cooking Tips:
You can add lemongrass.
Can serve as a pulutan with ice cold beer or any suitable beverage.
You can use the pig intestine. But make sure you clean it properly to prevent stench.
You can also use pig ear and pig head as ingredients but it  takes longer to prepare.
You can add long red pepper.