Usually, common beans are low in fat and offer an excellent source of protein, fiber, and complex carbohydrates. They are also a very good source of folic acid and molybdenum. They provide significant amounts of iron, phosphorus, magnesium, manganese, and potassium.
Mung Beans or we called it in tagalog "Mongo' are very good source of vitamins, minerals, and plant derived micronutrients. A very simple dish and inexpensive mostly for us as one of our favorite Filipino dish. You can cook for some vegetables such as okra, squash, string beans, spinach, ampalaya, eggplant, malungay, talbos na kamote and as any as you like to add.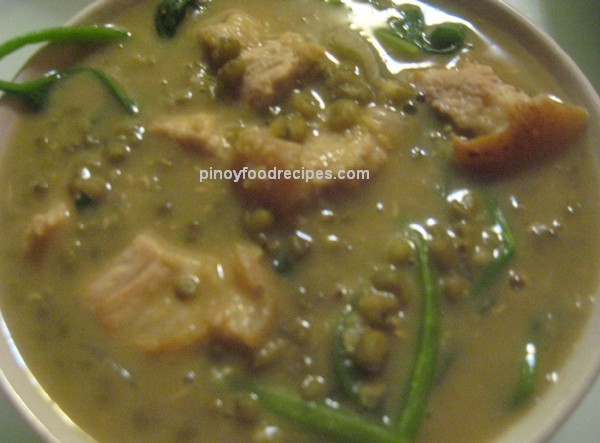 Ingredients:
1/2 kl. of pork rump (kasim) or belly (liempo), cut into dice or cubes
1/2 c. of mongo beans
1 tbsp. of minced garlic
1 onion, diced
2 tbsp. of cooking oil
water
1 bundle of spinach
salt and pepper
Cooking Procedure:
1. Bring the mung beans and the water to a boil in a pot. Simmer it in a low heat  until the beans are soft, about 30 minutes.
3. Heat the cooking oil in a large pot and saute onion and garlic until soft and fragrant. Add diced pork and saute until brown.
Stir in cooked mung beans and bring to boil and simmer over medium heat until pork is fully cooked (  add water if necessary).
Season it with salt and pepper and add spinach. Continue cooking the mixture another 2 minutes.
Serve while its hot together with rice.
Cooking Tips:
Green beans contain oxalic acid, a naturally occurring substance found in some vegetables, which, may crystallize as oxalate stones in the urinary tract in some people. It is, therefore, people with known oxalate urinary tract stones are advised against eating vegetables belong to brassica and fabaceae family. Adequate intake of water is therefore advised to maintain normal urine output to minimize the stone risk.
The best way to cook this dish is by pre-boiling the mongo beans and then cooking it to a mush with the pork. That will yield a thick and very flavorful sauce.
Also added hibe (salted dried shrimp), something I rarely use because I am allergic to shrimps.
You can add different kind of vegetables to be more nutritious.
You can cook also with dried fish big head.