Talakitok or we call it "bigeye trevally fish or cavalla fish" in English is a popular kind of fish not only in the Philippines but also all over the world. Although I featured a few other varieties of isdang paksiw, I will show how it's done with this fish we call talakitok.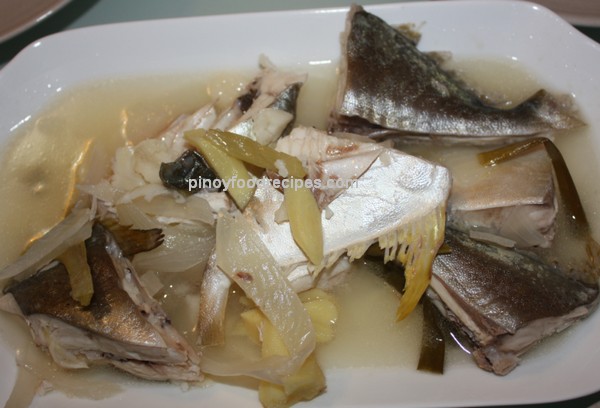 Ingredients:
1 big  pcs of  talakitok fish
shredded ginger
mashed 2 gloves garlic
salt and pepper
1/4 cup vinegar
water
pinch of fish sauce
Cooking Procedure:
Wash and cut fish into pieces.
 Heat a pan and cooking pot then pour-in vinegar and water.
Add salt and whole peppercorn then stir. Bring to a boil.
 Arrange the fish in the pan along with the ginger and garlic. Cover and simmer in low to medium heat for 15 to 20 minutes.
 Turn off the heat and transfer to a serving plate.
 Serve hot with steamed rice. Share and enjoy!
Cooking Tips:
You can add finger chili and garnish with spring onion.
Optional also some vegetables added such as eggplant, bitter melon, string beans, etc..
Choose fish that is still fresh. As much as possible is still alive.
Wash and clean fish thoroughly.