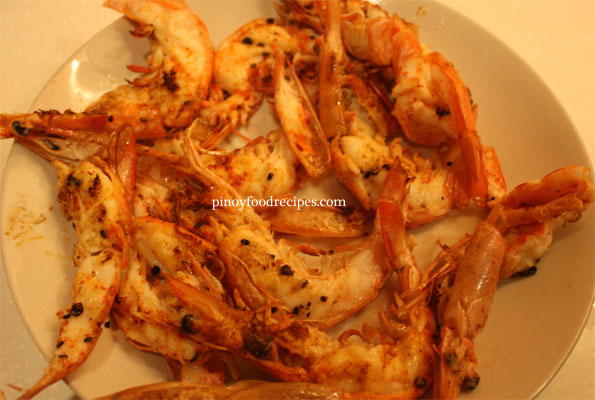 Ingredients:
1 pound jumbo shrimps ( Prawn)
Iodized salt /Nuoc Mam ( fish sauce)
Juice of 1 lemon, about 1 to 2 tablespoons
3 tbsp olive oil

Garlic Butter Mixture
5 cubes of  butter
1/2 teaspoon Worcestershire sauce
1/2 tablespoon lemon juice
dash or two hot pepper sauce, or to taste (Thai chili sauce)
1 large garlic clove, crushed
Salt
Cooking Method:
Wash and clean prawns.  Cut into half and let it rinse.
Place in a large bowl. Sprinkle with olive oil, lemon, and  a little bit of iodized salt/Nuoc Mam ( fish sauce) . Leave it about 1 hour in the refrigerator.
Heat butter over low to med.-low heat.  Add garlic, crushed chilies,Worcestershire sauce, and gently cook for about 1 min. ( To make a sauce ).
Heat your grill pan. Put a little bit of butter and put prawns into  high heat with the shell first. Spread or brush the garlic sauce mixture on the meat of the prawns. Cook 2-3 minutes. Serve hot.