Bean sprouts are used extensively as ingredients in Filipino dishes. They are a popular health food, inexpensive, available year round, have a fresh, crunchy flavor and can be eaten fresh or cooked. Many different types of bean seeds can be germinated and sprouts harvested, including kidney, navy, pinto, mung, lentil and soy beans.
All types of bean sprouts are excellent sources of nutrition. Bean sprouts can be served cold or hot, even stir fried them. So let's try to create some hot stir fried bean sprouts.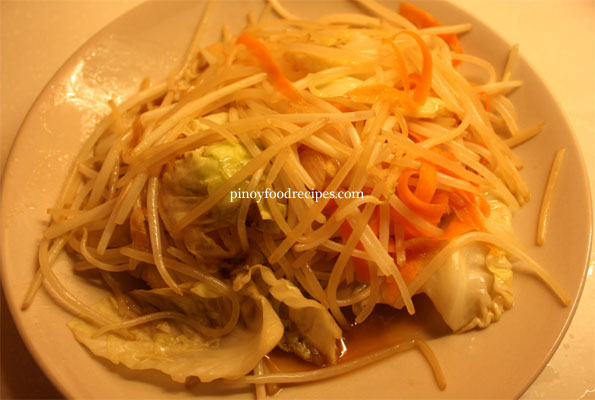 Ingredients:
450  bean sprout, hair removed
50 g cabbage
10g carrots
2 tbsp. cooking oil
1 tablespoon minced ginger
1 tablespoon sliced garlic
Seasonings:
1 tsp seafood soy sauce
1 tsp. iodized salt
Cooking Method:
In a very hot wok, coat well with oil and add ginger and garlic.
Put sliced cabbage. Season and stir. Quickly add the bean sprouts and thin stripped carrots stir-fry, flipping the sprouts around quickly. Check for seasoning.
Serve immediately. Don't over cook the bean sprout. It should be crunchy. May be served with rice.
Tips
The secret of a good stir-fry dish lies in the fact that the vegetables should be crunchy-cooked and not overcooked.
It is best to prepare a stir-fry dish just before a meal so as to serve it immediately.