Paella is a Spanish dish originating in Valencia. As a colony of Spain, Filipinos learned to adapt the food, which is a mixture of rice, meat, seafood, beans and vegetables. The word paella comes from the Old French term paelle which means pan. There are various types of paella, but what we'll describe here is seafood variation which replaces meat with seafood ingredients.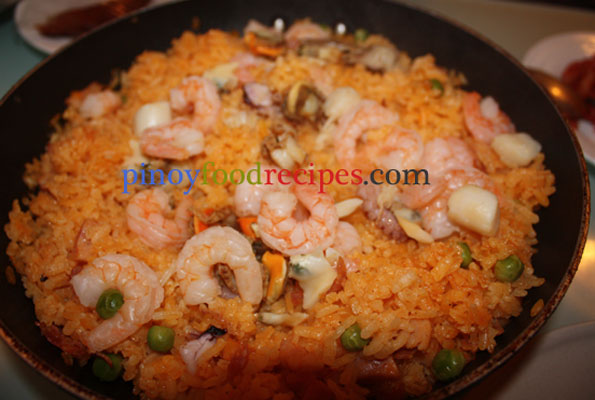 Ingredients (4 servings)
3 tbsp frozen green peas
3 cloves of garlic(crushed)
1 shallot (minced)
2 cups of Japanese rice or Paella rice
1 tsp tomato paste
1/2 achuete (annato powder)
1 whole chorizo de Bilbao, slice on diagonal (alternative 15g bacon)
1 tbsp Spanish pabrika
Pinch of Saffron
3 cups of chicken stock (see tips)
100g mussels
100g clams
100g shrimps
Salt and pepper to taste
3 tbsp annato oil (see tips)
Lemon wedges
Cooking Procedure:
Steam the clams, mussels, and prawns until they open and done. Set aside.
In a paellera or a large shallow pan, heat the annato oil. Saute onion for one to two minutes then add garlic and saute until fragrant.
Add the chorizo (bacon) and mix with Japanese rice or paella rice (washed) and green peas keep stirring. Add tomato paste.
Stir paprika ans saffron into chicken stock and pout into pan, making sure to distribute the liquid evenly. Season with salt and pepper.
Cover and simmer until rice are fully cooked, around 20 minutes.
Top with clams, mussels and shrimp. Serve with lemon wedges.
Cooking Tips:
To make annatto oil, dissolve one half tbsp annato (achuete) powder in 3 tbsp corn oil.
To make a quick chicken stock, add two chicken broth cubes to 3 cups of water in a saucepan. Heat until broth cubes dissolve.
Other toppings for the dish: Strips of bell peppers, slice hard boiled- eggs, and cooked calamari.