Chicken lasagna is one of those dishes I love to serve visitors during special occasions, or simply treating everyone at home for a slight change in menu for merienda. It takes a bit longer to prepare than a typical lasagna recipe because of the chicken ingredient. To save time without compromising much on results, I sometimes use minced chicken and follow the normal lasagna cooking procedure.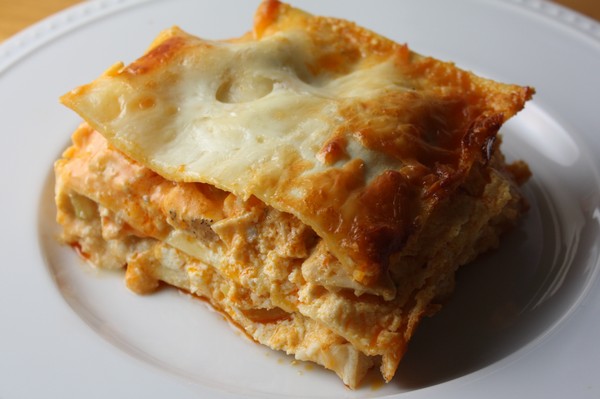 Ingredients
8-10 lasagna sheets, cooked
2 cups chicken meat, cooked and diced
1 cup button mushrooms, sliced
2 cups canned tomatoes
1 onion, chopped
½ tsp oregano
½ tsp basil
½ cup half and half
1 ¼ cups chicken broth
1 cup mozzarella cheese, shredded
½ cup ricotta cheese, shredded
2 tbsp butter
3 tbsp flour
parmesan cheese to taste
salt and pepper to taste
Procedure:
Saute onions in butter until they look transparent.
Mix together basil, oregano, mushrooms, salt and pepper.
Run the tomatoes on a blender, then add to the vegetables.
Add the chicken and let it cook on low heat.
In another saucepan, melt the butter and add the flour, stir until the combination becomes smooth.
Pour in the broth and stir continuously until thick. Switch to low heat.
In a greased baking pan, spread some of the cream sauce on the base and cover with a layer of lasagna.
Layer with the meat sauce, cream sauce, and ricotta and mozzarella cheeses.
Keep adding layers until sauce runs out. Top with parmesan and bake for about 25 minutes at 350F.