More than just a decorative Halloween candle holder , pumpkin is one of the most nutritional foods available year round. Rich in antioxidants, vitamins, and minerals, both the flesh and seeds of the pumpkin provide many health-boosting nutrients.
A pumpkin is really a squash. It is a member of the Cucurbita family which includes squash and cucumbers. Pumpkins are grown all over the world on six of the seven continents, with Antarctica being the sole exception. They are even grown in Alaska.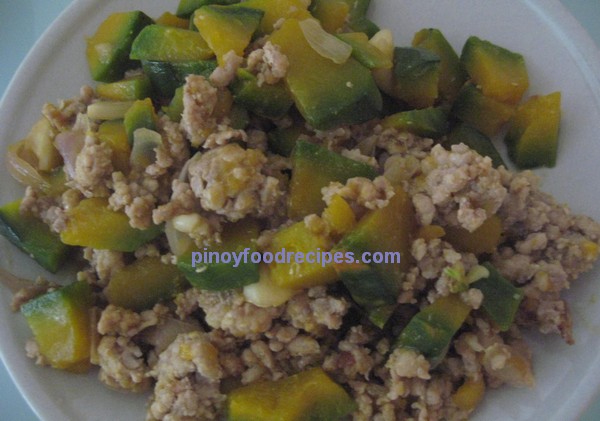 Ingredients:
400g  pumpkin
1 glove garlic (minced)
1 shallot (minced)
50g ground pork
Marinate:
1/2 tbs light soy sauce
1/2 tbs dark soy sauce
1/2 tbs cooking oil
1/2 tbs cornstarch
Seasoning: Salt
Procedure:
Marinate ground pork for at least 15 minute.
Peel the skin of the pumpkin according to your way (much healthier if the skin is included) and cut it into a small triangular pieces. Wash and drain.
Heat a little bit of cooking oil in a wok. Put minced garlic and minced shallot.
Add marinade ground pork. Keep stirring until the meat is getting a little bit brown.
Put the sliced pumpkin. Follow by the seasoning. Mix well and cover it at least 5 minutes or more until the pumpkin is half cooked.
Serve with rice or you can eat w/out rice.
Tips:
For cooking, you want a pumpkin that is heavy for its size. The lighter ones are drier, with a bigger open space in the middle. For the most part, stay away from the large pumpkins when selecting a pumpkin for eating – 2 to 5 lbs is about right.