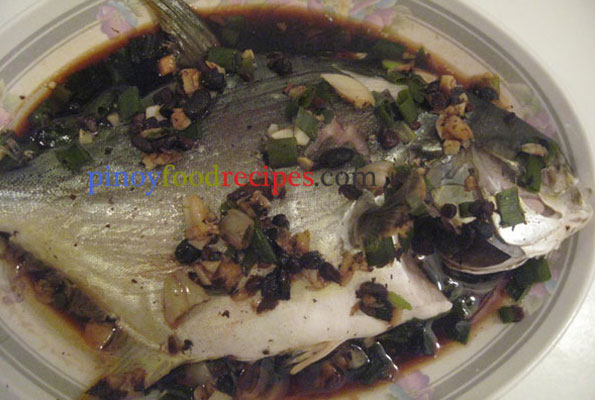 Ingredients:
1 Fresh Whole fish (1-1/2 to 2 lbs) -(sea bass, whitefish, pike, trout, rock cod)1 gloves of minced garlic
3 tbsp fermented black beans
2 whole scallions, shredded
Shredded ginger
Seasonings
2 tsp seafood soy sauce
2 tsp light soy sauce
1/2 tsp sugar
1 tsp sesame oil
2 tbs oil
1 tbs cornstarch
Cooking Method:
1. Clean and scale fish. Wipe it to dry.
2. Chop the garlic and fermented black beans. Mix with seasonings.
3. Place the fish on a platter large enough to hold it. Scatter the shredded ginger and some scallions. Pour over the fish the mixture seasonings.
4. Pour water into a wok about 2/3 full. Heat the water to boiling. Dip fish pieces in the sauce and place on a rack that sits over the wok. Cover and steam fish for about 10-15 minutes. Fish should be white and firm to the touch. Serve immediately, sprinkled with the remaining  green onions. Serving it hot is best.