Tinolang isda or Fish soup has a terrific taste and aromatic smell, the dish has plenty of nutrients and vitamins because of the vegetable ingredient being used.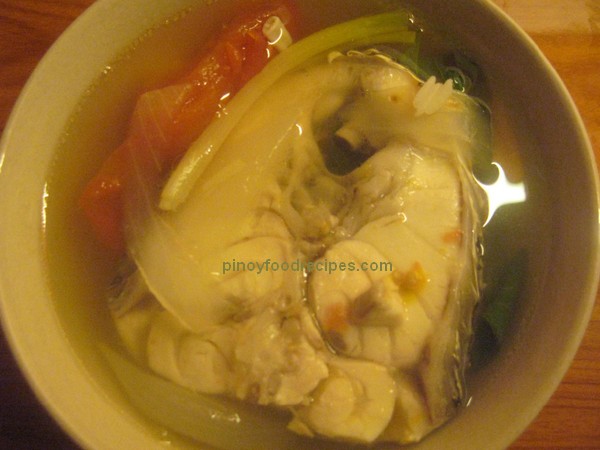 Ingredients:
1/2 kilo fish (any medium to large fresh fish will do)
2 slice ginger, peeled and crush
1 onion
2 pcs. spring onion ( cut 1-2 inches long)
2 tomato, slice
3 cups water
1 lemon grass
2 green pepper
salt to taste
Procedure:
Clean and drain fish.
In casserole bring to boil water with onion, ginger, tomato, and lemon grass.
Add fish when water start to boil and simmer for 10 minute.
Add green pepper and spring onion and salt to taste.
Bring to boil for 2 minutes.
Served with hot steamy rice while broth of tinolang Isda recipe still hot.
Tips:
Green vegetables such as malungay, talbos ng kamote, petchay,cabbage, and ampalaya leaves can also be added. Tinolang isda serves best when it is still hot and the fish belongs to the freshest catch of the day.