You may say that potato is not a staple food for Filipinos. Correct, yet, with fusion of many dishes influenced by neighboring countries, it's inevitable that new ingredients slowly encroach the Filipino table. And yet, many of us won't consider potato as a foreign meal as we've been using it on dishes like caldereta, afritada or meat extender for other recipes.
Roasting any vegetable brings out its natural sweetness. There are many different ways to roast potatoes – some healthier than others.  A perfect accompaniment to meat, fish or vegetarian dishes.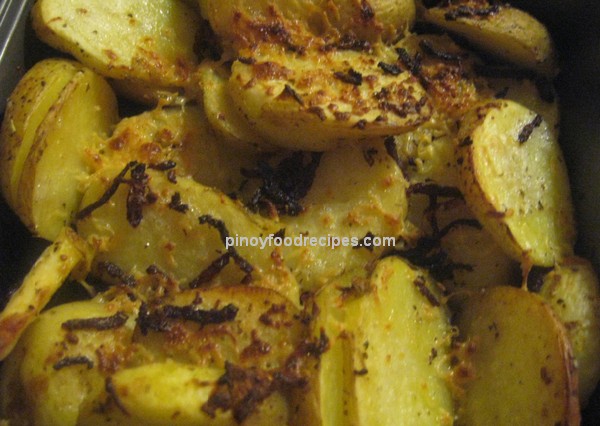 Ingredients:
4 medium potatoes
3 Tablespoons of olive oil
1 1/2 teaspoons of dried rosemary
1 Tablespoon of salt
1 teaspoon of pepper
1/2 cup grated cheese
1/4 cup roasted bacon,sliced
Cooking Procedure:
Wash the potatoes under running water either with a cooking brush utensil or by rubbing the potatoes with your hands.
Gently, bring them to the boil and let them cook for about 8 minutes. Don't leave them to cook entirely.
Drain it and slice into round shape and about 1/2 inch thick.
Set the oven to 250ºC or gas mark 7 and begin to heat the oil in the roasting tin.
In a large bowl mix potatoes with salt and pepper, roasted bacon, salt and pepper, and rosemary.
When you see that the oil is sizzling hot, place the potatoes into the roasting tin. Turn them over in the oil to make sure they are covered before cooking.
Allow the potatoes to cook for 30-40 minutes. About halfway through the time, turn them over to make sure all sides get a crispy finish. Spread cheese on top before the time ended and allow it ti melt.
After the time is up, take a look to see what colour the potatoes are. They should end up a golden-brown, be crispy on the outside and soft on the inside.
Remove the roast potatoes from the tin making sure that they don't carry too much oil and you're ready to serve up. And taste it. Add salt and pepper if it is necessary and enjoy!
Cooking Tips:
I am not going to peel the potatoes, as the skin will add a really nice texture to the roasted potato.
You can dunk them in sour cream or ketchup. You decide.
Always remember that soap is never used to wash fruit or veggies.