Humans keep chickens primarily as a source of food, consuming both their meat and their eggs. The meat of the chicken, also called "chicken", is a type of poultry meat. Because of its relatively low cost, chicken is one of the most used meats in the world. Nearly all parts of the bird can be used for food, and the meat can be cooked in many different ways. Popular chicken dishes include roasted chicken, fried chicken, chicken soup, Buffalo wings, tandoori chicken, butter chicken, and chicken rice. Chicken is also a staple of many fast food restaurants.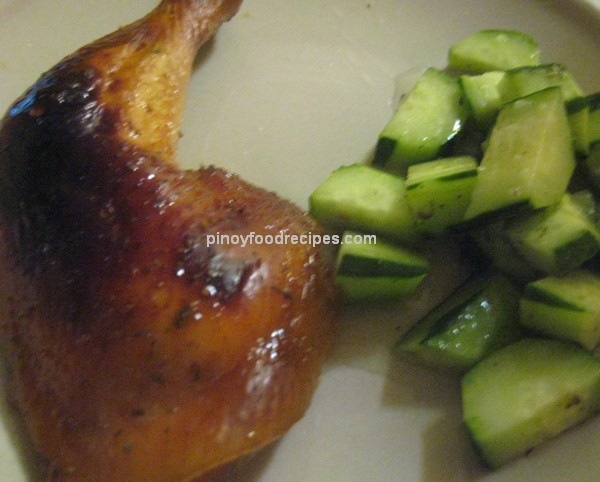 Cucumbers which are grown to be eaten fresh are called slicing cucumbers. They are mainly eaten in the unripe green form. The ripe yellow form normally becomes too bitter and sour. These cucumbers can also be harvested for pickling when they are smaller.
Ingredients:
4 pieces whole chicken legs
1/2 cup honey
1 tbsp soy sauce
Italian Mixed herbs
salt and pepper
2 tbsp olive oil or vegetable oil
Cooking Procedure:
Wash and drain chicken.
Marinate chicken leg with honey, soy sauce, herbs, salt and pepper, and oil for overnight.
Heat the oven to 450 degrees F. Put chicken legs into a roasting dish, and put the dish into the preheated oven.  Then adjust the temperature to 160-120 degrees F and let it bake for at least 30-45 minutes.
For Salad:
Dressings:
2 small gloves of garlic, mashed
3 tbsp olive oil
salt and pepper
1 lemon or 4 tbsp apple cider venigar
Methods:
Wash and cut cucumber into small cubes.
Mix all with the dressings in a bowl then arrange it in the plate besides the honey roasted chicken leg.
Cooking tips:
Can be serve either rice or potato.
Mix your salad when it's time to eat.
As for the salad you can have mixed veggy such as lettuce, tomatoes, nuts, shallot, spinach, parsley, cauliflower, broccoli, and any variety of vegetables and there is no limit to what you can add.
You can add some cheese and fruits.