We are very lucky that we have a lot of varieties of fish. Fish are good sources of protein and are low in fat. It's one of the best ways to get protein in your diet without all the fat like in other meat sources. Fish is an excellent source of high-quality proteins with sufficient amount of all the essential amino acids. Fats in fish are less saturated which is great if your on a diet. The most prominent fats in fish are omega-3 fatty acids. Fish oil is also one of the few natural food sources of vitamin D.
I've decided to share to you my sole fillet recipe that is very attractive mostly to the children. Maybe because no bones and easy to eat. Sole is a group of flatfish belonging to several families.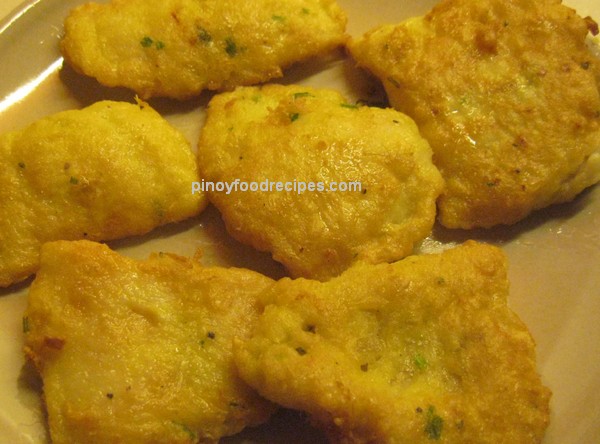 Ingredients:
2 pieces sole fillet fish, sliced into big pieces
1 glove garlic, mashed
1 egg
1 shallot, minced
pinch of salt and pepper
cooking oil
2 slices ginger
1 tbsp cornstarch
1 tbsp flour
1 stalk of coriander or Chinese parsley, minced
Cooking Procedure:
Marinate sliced fish fillet with salt, pepper, ginger, cornstarch, flour, garlic, egg, and coriander. Mix thoroughly and live for about an hour and put inside in the refrigerator.
Heat pan with exact amount of cooking oil and saute ginger came from the  mixture and let it brown. Throw away ginger and Pan-fry marinated fish.
Serve with rice.
Cooking Tips:
Most fish have less fat than most meats per serving, and the fats in fish are less saturated. For example, a 4-ounce serving of baked bluefish has 6 g fat (4.1 g saturated fat) and 86 mg cholesterol; a 4-ounce serving of lean sirloin has 9 g fat (4.7 g saturated fat), and 101 mg cholesterol. The most prominent fats in fish are omega-3 fatty acids: ecosapentaenoic acid (EPA), dicosahexanoic acid (DHA), and the essential fatty acid linolenic acid. Omega-3s, also found in human breast milk, are most abundant in fish living in cold waters (anchovy, herring, mackerel, menhaden, salmon, sardines, trout, tuna).