Minced beef or locally known as giniling (it is also called picadillo in Latin American countries) is composed of ground beef plus a handful of vegetables and spices. It is full of great flavor and its versatility can take it on the table during breakfast (it is not surprising to see Filipinos eat rice in the morning), lunch or dinner. 
Ground pork is stewed in tomato sauce and water to bring out the taste and bring its more palatable color. Diced potatoes or chayote are common ingredients although I left off the latter in this recipe. It is easy to prepare yet it brings    pleasant experience when consumed at home or in a local carinderia as part of the turo-turo fare.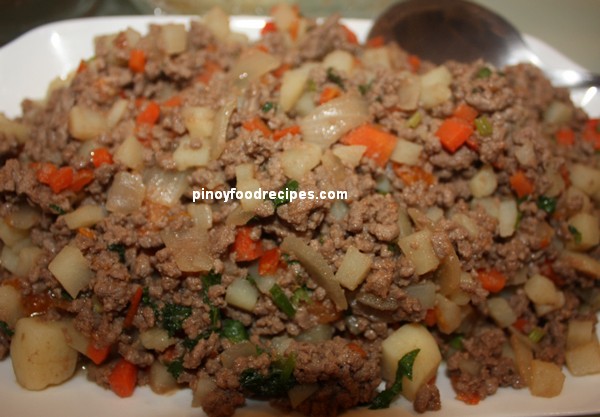 Ingredients:
1 kilo minced beef
1 carrots, cut into a small cubes
2 pcs. potatoes, cut into a small cubes
Minced coriander
Minced big white onion
3 gloves garlic, minced
3 tbsp fish sauce
1 red chili pepper, minced
2 tbsp olive oil
Small lemon grass, minced
Seasoning:
Salt and powder white pepper
Cooking Procedure:
In a non-stick skillet, heat olive oil. Sautee minced garlic, onion, miced lemon grass, red chili with minced beef. keep stiring.
Add small cubes carrots and potato's and fish sauce. Simmer  around 10 minutes in a low heat.
Turn heat into medium and put minced coriander. Mix thoroughly.
Season it with salt and pepper powder.
Cooking Tips:
You may add more red chili for more spicy sensation.
Wrapping it with lettuce leaf brings very juicy and tasty experience every bite.
For those looking for pulutan, minced beef is also a good partner with beer, rum, or even wine.