Are you one of a seafood lover? Take this recipe, easy to cook dish and brings tasty meals everyone would love. You can even lick your fingers to affirm the sweet and spicy prawn taste.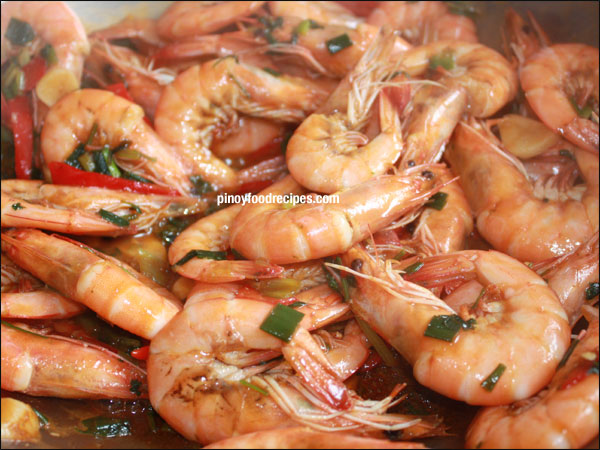 Ingredients:
1 pound fresh prawn
2 tbsp vegetable oil
3 tbsp fish sauce
1 tbsp seafood soy sauce
2 tbsp sugar
2 tbsp tomato ketchup
1 tsp corn flour
spring onion, minced
1 stalk of coriander, cut
1 whole garlic, minced
1 big shallot, minced
1 big chili ( japaleno), minced
1 tsp spicy chili powder
Cooking Procedure:
Wash and clean prawn. Look for the black sand vein that runs along the center of the back and remove it by using a toothpick. Rinse the prawn under cold running water.
Marinate prawns with fish sauce, sugar, corn flour and seafood soy sauce for at least 10 minutes.
In a big wok, heat oil. Add minced garlic and minced onion. Let it be a brown a little bit.
Add marinated prawns and keep stirring for at least 2 minutes. Then add minced chili,chili powder, ketchup and minced onion. Keep stirring until all the ingredients are totally mix and the prawn are cooked.
Garnish it with coriander and serve with steamed rice.
Cooking Tips:
Fresh prawn is always better than frozen.
It is much more easy to used you hands to eat the prawns.
Wash your hands thoroughly specially after eating prawns. Use soap or use lemon.
It is is much more tastier if you will not overcooked.
Consume while dish is still hot.
You can add more  chili to be more spicy. It is your choice.