Sinigang na hipon or commonly known as sour shrimp soup is a very famous dish in the Philippines and  Filipino main dish having shrimp as the main ingredient together with the sour and unique taste of sampalok or tamarind.  It is where fresh shrimps and vegetables are cooked by boiling in a sour broth.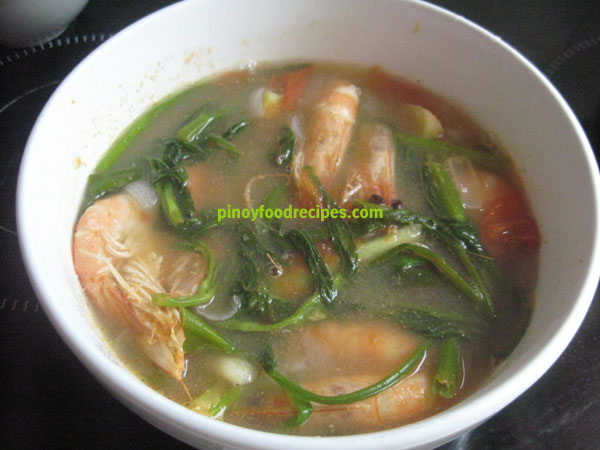 Ingredients:
 ¾ to 1 kilo shrimp
1/4 cup onion sliced
½ kilo tamarind
3 pcs. tomatoes (sliced)
1 bundle kangkong
1 bundle sitaw (string beans)
Water
Optional ingredients ( long green pepper, radish and eggplant)
Seasoning:
Cooking Procedure:
Boil Tamarind in rice wash or water to soften and extract all juices to get its sour taste.
Pound and extract all juices and set aside.
In a casserole, boil rice wash or water, Tamarind juice, onions and tomatoes.
Lower fire, add in Shrimps, Kangkong and string beans.
Simmer for 5 minutes.
Season with salt or fish sauce and put  just enough on your taste preference
Serve hot and enjoy.
Tips:
Lemon or calamansi  can be used as additive to sour sinigang na hipon soup.
In traditional way, you need to boil the tamarind  to get the sour taste but now there are several brands of instant tamarind mixes that will make sinigang easier and faster.
Make sure your shrimp or prawn is fresh to ensure great flavor.