Puto is Philippine steamed rice cake, eaten as is or with butter and/or grated fresh coconut or as accompaniment to a number of savory dishes for breakfast — most notably, with dinuguan.
Since puto making is one of the most wide-spread food preparations commonly practiced in the entirety of the Philippines, it is therefore a field fertile for experimentation and actually affords much variations, differentiations and creativity from place to place and even from household to household. Hope you like my version of cooking puto cheese and also the simplest way.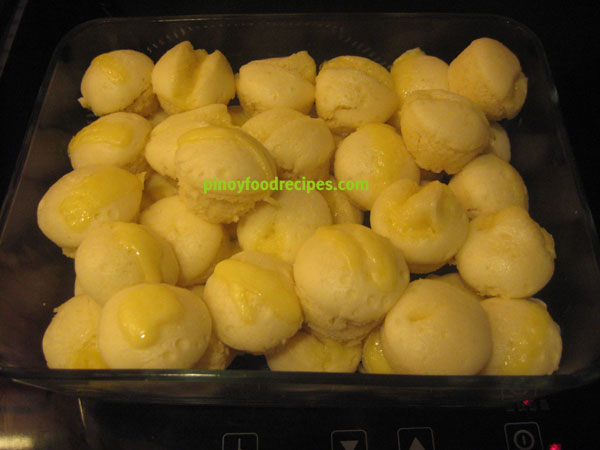 Puto Cheese Ingredients:
3 cups Bisquick (or equivalent all-purpose baking mix)
1 1/2 cups white sugar
1 cup fresh milk
3 eggs
4 tbsp butter or margarine
1 tsp vanilla extract
Sliced cheese
Water
Baking Procedure:
In a saucepan or microwave , melt the butter.
In a big bowl, combine all the ingredients except  cheese and water. Mix well either using a ladle by hand or a mixer but take note do not mix thoroughly or else the batter can be lumpy.
Grease puto molds or ramekins for use in a steamer.  Pour or fill the mixture in  the prepared molds 2/3 of the way up with the batter and top with shredded cheese.
Fill a wok or a sauce pan that will hold a steamer basket with a few inches of water. Bring the water to a boil over medium-high heat. Place the molds into a steamer basket and place over the boiling water and cover.
Steam the puto in a steamer for 15 minutes or until it has rose like cake. Continue to cook puto until there is no more batter.
Tips:
This version of puto is a cakey or spongy type.
Use the toothpick by inserting it in the puto to make it sure that the puto is cooked. If toothpick yields no puto residue, it can now be taken off the steamer.