There are quite a number of Filipino noodle varieties: from the popular Malabon, sotanghon and bihon guisado to the lesser-known alanganin, alahoy and cabagan. Each has its own distinct characteristic, influenced by foreign visitors or locally available ingredients. So it's not a surprise if you'll see a series of pancit recipes I will be featuring once in a while. This time, it's pancit canton's turn in the spotlight.
Pancit canton may refer to lo mein or chow mein, depending on who you're talking to. Basically, it is a stir-fried dish composed of egg noodles, meat, poultry or seafood and a medley of vegetables. As you will see in the photo, this version contains shredded chicken sausages and topped with light vegetables.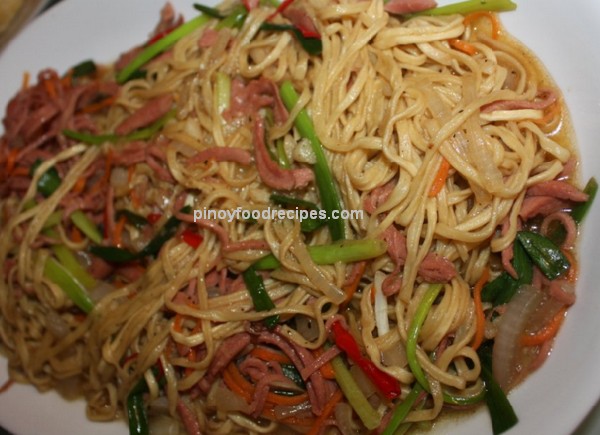 Ingredients:
2 big round pancit canton (dried egg noodles)
4 pieces chicken sausages, shredded
1 small carrots,shredded
1 small white onion,shredded
1 gloves garlic, minced
2 tbsp oyster soy sauce
2 tsp. chicken powder
2 cups water
1 tbsp light soy sauce
few spring onions
6 tbsp  cooking oil
Cooking Procedure:
In a wok or frying pan, heat 2 tbsp of cooking oil.
Add the onions, sausage, and carrot. Sautee and set aside.addition.
Add the remaining oil and put garlic and sautee. Pour cups of water and chicken powder, let it boil.
In a medium heat, add oyster sauce and pancit canton. Let simmer until the noodles absorb the liquid.
Mix all the remaining ingredients and let heat through.
Cooking Tips:
There are several ways of preparing the noodles when cooking pancit canton
To blanch the dried noodles in boiling water for a few seconds then draining them.
 To plunge the dry noodles in plenty of hot smoking oil until puffed. (This is the method used for cooking crispy canton where the meat, vegetables and sauce are poured over the fried noodles arranged on the serving platter).
To blanch the noodles, then lightly frying them in oil before stirring them into the sauce. However, the cooked dish is also a lot more oily
I prefer not to blanch the noodles because it makes them soggy. I prefer that they cook in broth and absorb the flavor of the meat and vegetables.
It also means adding another cooking procedure that means longer cooking time and more utensils to wash.