Chili con carne or more commonly known as simply "chili" is a spicy stew containing chili peppers and meat. Traditional versions are made using chili peppers, garlic, onions, and cumin, along with chopped or ground beef. Beans and tomatoes are frequently included.
This great chili  has to be one of the best dishes to serve to friends for a casual get-together, family reunions, fiesta, birthdays, or any type of occasions.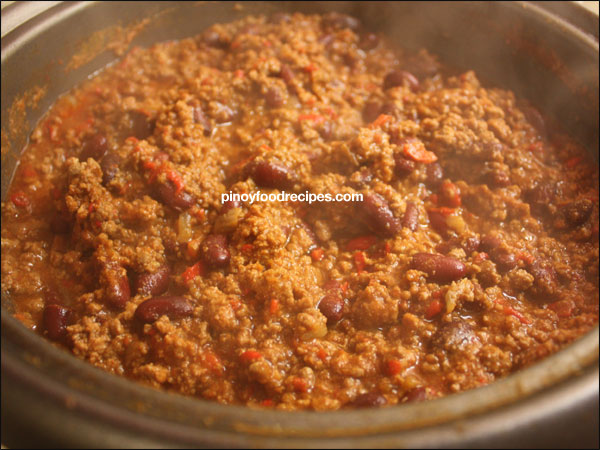 Ingredients:
1 tbsp vegetable oil
1 large white onion, chopped
2 garlic cloves, peeled and chopped
1 red bell pepper,chopped
1 tsp paprika
1 tsp ground cumin
1 tsp of cinnamon
500 g lean minced beef
2 tbsp tomato puree
1 tbsp worcestershire sauce
1 tin red kidney beans
2 teaspoons finely chopped jalapeno chili pepper
400g chopped tomatoes
Seasoning:
1 tbsp salt
1 tsp ground pepper
1 tsp sugar
Cooking Procedures:
Heat oil in a non-stick frying pan over medium-high heat. Add onion and garlic and cook for 3 minutes or until onion softens. Add ground beef, ground cumin, cinnamon, chopped bell pepper, chopped red chili , paprika, worcestershire sauce, and keep stirring until the ground beef is getting brown.
Add the tomatoes and  tomato puree. Cover and simmer for at least 1 1.2 hours, adding a little water if needed to keep from sticking. Check and stir frequently. Season to taste and adjust it if it is necessary to add  and put cooked or canned beans and heat through.
Serve while is hot with rice.
Cooking Tips:
Prepare beans unless using cans. Rinse dry beans, cover with cold water, and let soak overnight. Drain, transfer to a large saucepan, and cover with fresh water. Cover and simmer for about 1 hour, or until tender. Drain.
Rather than add the teaspoon of sugar, you can stir in a small piece of chocolate (about the size of your thumbnail) when you add the beans. Any plain dark chocolate will do. Be careful not to add too much – you don't want to be able to identify the flavour of the chocolate.
Use chili con carne to fill baked potatoes; toppings for any pasta ( spaghetti,penny or any) spoon over corn chips and top with cheese for nachos; or as a pizza topping.
 You can freeze this dish for up to 1 month. Place in an airtight container. Label, date and freeze. Thaw in fridge overnight.
Serve it on a bed of plain, boiled rice, with a spoonful of soured cream on top. Pile it on tortilla chips and sprinkle it with grated cheddar. Wrap it up in a tortilla with shredded lettuce, chopped tomatoes and guacamole for a great burrito.
You can add chili powder for more spicy, but id depends also to the person whose going to it if she/he can handle it. Not also good for children.