Tinola in Tagalog, tinuwa in Cebuano or la uya in Ilocano is a soup-based dish served as an appetizer or main entrée in the Philippines. This is an ideal treat served with rice during cool periods such as rainy days where a hot soup is best appreciated.
Traditionally, this dish is cooked with chicken, wedges of green papaya, and chili pepper leaves or Bird's eye chili leaves in broth flavored with ginger, onions and fish sauce. A common variant substitutes pork for chicken, chayote instead of papaya, or moringa leaves known as marungay or malunggay or "kamunggay" (in Cebuano), instead of pepper leaves. However, an all-vegetable broth in Cebu with 'kamunggay' in prominence is called "utan kamunggay" or "utan bisayâ".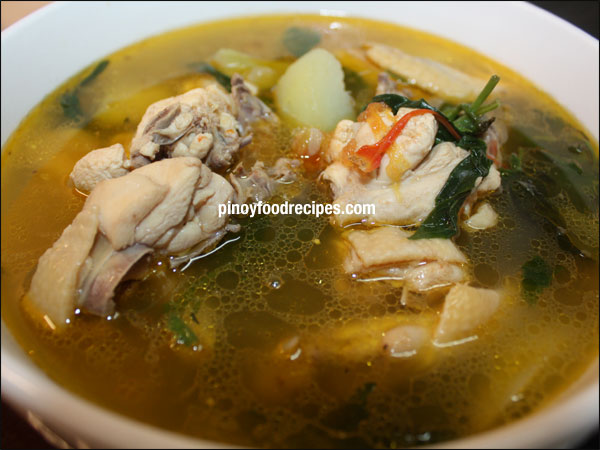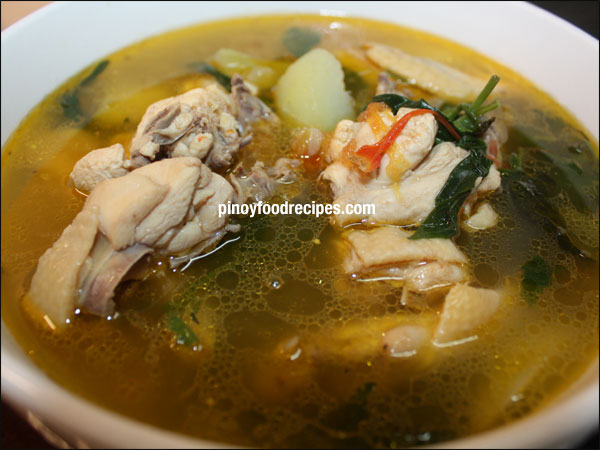 Ingredients:
1 whole native chicken, cut into serving pieces
2 shallot, slice thinly
3 big slice of ginger
2 tbsp olive oil, or vegetable oil
chili pepper leaves, wash and remove from stalk
1 green papaya, or chayote, cut
1 small glove garlic, mince
Seasoning:
2 tbsp fish sauce
salt and pepper
Cooking Procedure:
Cut and wash chicken thoroughly and drain it or you can pat it dry by using the paper kitchen towel tissue.
In a medium sized pot, heat oil and saute' garlic, ginger and onions. Saute' until onions are slightly translucent and ginger becomes aromatic. Add in chicken and keep stirring until the meats turned white and fat is rendered.
Stir in the water to cover, fish sauce, salt and pepper bring to a boil. Reduce heat to low and simmer for 25 to 30 minutes, stirring occasionally and skimming off any scum that rises to the surface.
Add the sliced papaya and simmer for another 5 to 10 minutes, or until cooked through.
Adjust seasoning and stir in the chili pepper leaves. Serve hot.
Cooking Tips:
Eliminate the fish sauce and just use salt if you'd like.
Remove the skin from the chicken after browning if you like. It makes a less fatty, clearer soup.
Make sure use the native chicken or less fatty chicken.
You can also saute it with the lemongrass together with ginger.
You can also use spinach.
Instead of chili pepper leaves. you can also use bird eye chili.