I used different type of seafood cooking for this variety of vegetables called "Chop Suey". Chop Suey is one of the best dishes for Pinoy taste in terms of cooking vegetables. I found it very colorful and tasty. In this type of dish, I made sure to it that it will not overload the seafood ingredients. Hence, I still emphasize the vegetable.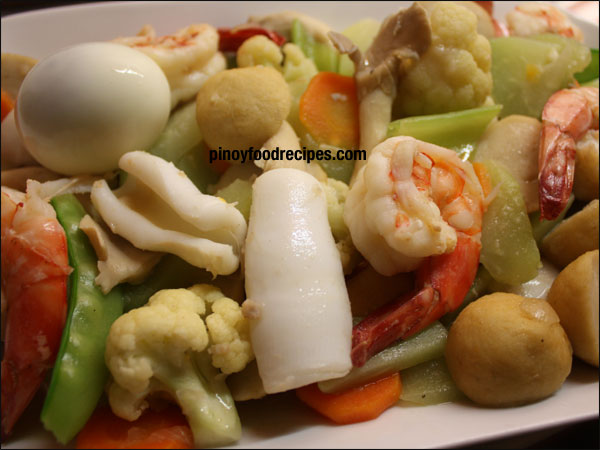 Ingredients:
8 pcs.  prawn, shelled
6 sliced squid, cut into square
5 pcs. mussels , boiled and disregard hafl shell
1 whole white fish fillet, cut into strips
100 grams of mushroom
100 grams snow peas bean
1 medium size carrot, sliced thinly
1 medium size sayote, sliced thinly
1 small size cauliflower, cut into floweret
1 small size brocolli, cut into floweret
1/2 small size cabbage, cut into wedges
1 stalk celery, separate leaves, stem sliced thinly
2 small size onion, minced
1/2 head garlic, chopped
5 pcs fish ball cut into half
2 tbsp cooking oil
Seasoning:
3 tbsp  fish sauce
2 tbsp seafood soy sauce
2 tbsp. oyster sauce
1 tsp sugar
dash ground pepper
dash of salt
Thickening:
4 tbsp cornstarch mix with 2 tbsp of water
Seafood Broth:
Use the head of the prawn and add 1 cup of water. Let it boil around 15 minutes in a low heat and also add mussels until cooked. Set aside the cooked mussels and throw away the prawn head and use the soup later.
Cooking Procedure:
In a non- stick pan, fry fish fillet until cook and set aside.
In a big deep wok, heat cooking oil and sautee chopped garlic and minced onion until fragrance appear.
Add prawns, sliced fish ball and sliced squid. Stir well using a medium heat. Follow the seafood broth. Let it boil, then add sayote, carrots, cauliflower, and broccoli mix well and cover using the wok lid and let it simmer around 2 minutes.
Put all the seasoning except salt and pepper. Mix thoroughly and let it simmer a little bit. Then add all the remaining vegetables and cover again using wok lid until cooked. Add cooked mussels and cooked fish fillet.
Pour the thickening mixture and mix well. Add salt and pepper if it is necessary.
Cooking Tips:
You can add a baby corn, Chinese pechay cabbage, bell pepper and green beans.
Do not overcooked all the ingredients .
You can also use chicken broth.
Alternative of seafood for cooking a chopsuey are chicken fillet and lean pork or pork belly.
Optional boiled egg added or quail eggs.
 Do not overlap your meat than the vegetables.
Add cooked fillet at the last.
Adjust the thickening sauce if it is necessary. Pour the mixture slowly and so you can adjust it if is needed or not.
You can eat with out rice.
Fresh seafood is better than a frozen one.