Kare-kare is a stew of oxtail, beef, occasionally added beef tripe, lots of varieties of vegetables and we called a combination of all three main ingredients (beef, oxtail and tripe) commonly cooked with a peanut butter paste and serve it bagoong.
Estimated time of cooking for this type of dish is 2 1/2 hours.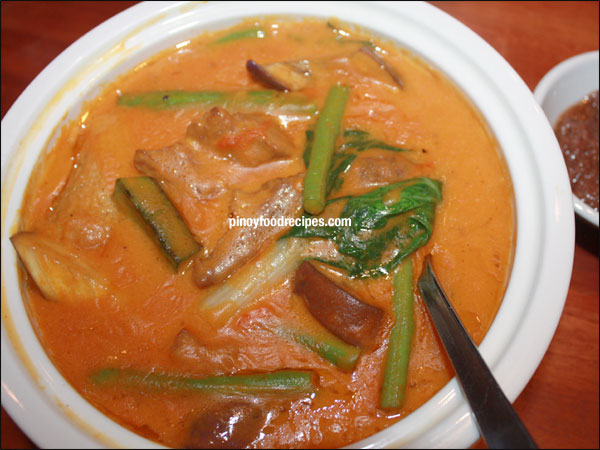 Ingredients:
1 kl of beef ( round or sirloin cut) cut into cubes
1 kl of beef tripe cut 2 inch long
2 kls. of oxtail cut into round pieces
4 cups of peanut butter
1/4 cup grounded toasted glutinous rice
2 pieces big white onion, diced
2 heads of garlic, minced
4 tbsp atsuete oil
4 pieces eggplant, sliced i inch thick
1 bundle of Pechay (Pak  Choy) cut into pieces
1 bundle of string beans cut into 2 inches long
1 banana bud, cut  and blanch in boiling water
1/2 cup vegetable oil
8 cups of water
salt to taste
Dip with 1 cup cooked bagoong alamang ( anchovies )
 Cooking procedure:
In a stock pot, boil beef, tripe and oxtails in water for an hour or more until cooked. Drain and keep the stock
In a big wok, heat vegetable oil and atsuete oil (mixed with oil and atsuete).
Saute garlic, onions until golden brown, then add the stock, toasted rice (toast the glutinous rice in a frying pan w/out adding oil), beef, tripe, oxtail and peanut butter. Bring to a boil and simmer for 15-20 minutes.
Add the eggplant, string beans, petchay and banana bud. Cook the vegetables for a few minutes.
Serve with bagoong on the side with hot plain rice.
Cooking Tips: 
Do not overcook the vegetables.
Make sure that your meat is tender and soft to eat.
You can add on chili powder to make it  spicy.
They are meat variants you can include goat meat or chicken meat.  It's your choice.