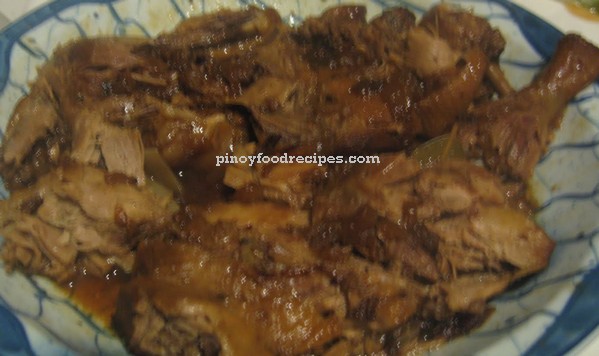 Ingredients:
1 duck
3 sour plums (cored)
1 tbsp fermented soy beans paste
1 quarter dried mandarin peel (soaked in water until soft)
2 tbsp granulated brown sugar
Marinate:
1 tbsp shaoxing wine
1 tbsp light soy sauce
Method:
Rub the skin of duck with coarse salt. Wash and drain. Mix with marinate and leave for 1/2 hour.
Put duck into the hot oil. Deep fry until the skin of duck is golden. Remove and drain.
Finely chop sour plums, fermented soy bean paste and dried tangerine peel together. Add granulated brown sugar and mix well. Place the mixture evenly over the skin of the duck.
Put duck into a steaming basket. Stew over high heat for 1/2 hour. Reduce to low heat and stew for another 1 hour. remove duck and cut into pieces and transfer to a plate. Pour sauce and serve.