Roast beef made using this process is easy to do. With complete set of ingredients and proper oven settings, you'll be delighted by the aroma and tender tasty sensation. Leftovers can also be used as a filling for sandwiches which is a good alternative to mayonnaise or peanut butter.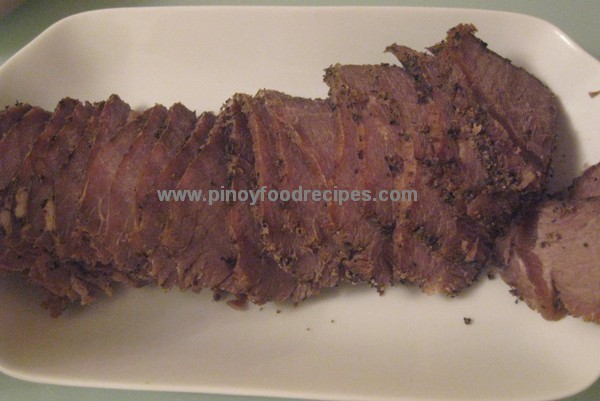 Ingredients:
3 -4  lbs of Boneless Rump Roast or tender loin (pick a end cut with a lot of fat marbling); trimmed
1/4 cup lemon
3/4 cup Vegetable oil
1/4 cup worcestire sauce
1/2 cup soy sauce
10 cloves of garlic; cut into pieces
1 tbsp black ground pepper
Cooking Procedure:
Combine all the ingredients except ground black pepper and pour over the beef. Seal and chill overnight or 48 hours, turning occasionally.
Remove roast from marinade and drain. Coat and sprinkle it with pepper.
Wrap the beef with aluminum foil ( or you can put it in the oven rack).
Preheat the oven  375% and  brown the roast  for half an hour. Lower the heat to 1800°F  and live it around 1 hour. And adjust the temperature to 140 for another 1 hour. The roast should take somewhere from 2 to 3 hours additionally to cook.
Let stand 5 minutes before slicing
Tips:
Per Serving (excluding unknown items): 733 Calories; 40g Fat (49.9% calories from fat); 82g Protein; 8g Carbohydrate; 1g Dietary Fiber; 211mg Cholesterol; 1577mg Sodium. Exchanges: 0 Grain(Starch); 11 1/2 Lean Meat; 1 Vegetable; 0 Fruit; 4 1/2 Fat; 0 Other Carbohydrates.