Beef Caldereta or common known us "beef stew" is the most popular celebration dish during fiestas, birthdays, baptism, and even in wedding celebrations. It is rich tomato-based stew traditionally cooked with goat meat and beef meat. Every family has its own version and this is my easy way version.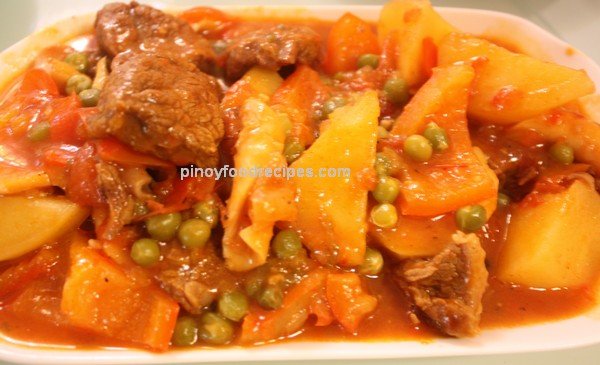 Ingredients
1 kilo beef, cut into chunk
1/4 teaspoon peppercorns, crushed
1/4 cup apple cider vinegar
1/4 cup soy sauce
3 garlic cloves, crushed
2 medium potatoes, cubed
1 large  onion, minced
6 tomatoes, sliced
4 tbsp. tomato paste
1 tbsp paprika
1/2 cup green peas
1 bay leaf
1 red bell pepper, cut 3/4 into 1/4-inch strips and minced the remaining
1 cup green bell pepper, cut into 1/4-inch strips
1 teaspoon Tabasco sauce
2 pieces red chili, minced
salt and pepper
4 tablespoons oil
2 cups of water
Cooking Procedure:
Wash and cut beef. Then, marinate beef with vinegar, soy sauce, peppercorns and garlic together in a large bowl.  Refrigerated, for anywhere from 1 to 8 hours. Remove the meat from the marinade and pat dry, reserving the marinade.
Heat 2 tablespoons of oil. Add the cubed potatoes and fry until lightly browned. Remove and set aside.
Add the remaining 2 tablespoons ; brown beef on all sides. Remove and set aside.
When the beef is all browned, add more oil to the pot if needed and sauté the onions, paprika, 1/4  minced red bell peppers, 2 pieces minced red chili and garlic over medium flame until the onions are translucent. Add the tomato and tomato paste and simmer for 3 to 5 minutes.
Return the beef to the pot, along with the reserved marinade, bay leaf and water. Bring to a boil, then reduce heat and simmer for 1 1/2 hours.
Add potatoes, peas, Tabasco, salt and bell pepper and simmer for another 20 to 30 minutes, or until the beef is tender and the potatoes are cooked through. Add a little more water if necessary.
Serve with rice.
Cooking tips:
Goat meat is often used instead of beef when making caldereta. It can also be made with chicken.
For a special kaldereta, do not use water or beef stock. Use an equivalent weight of onions to the beef (1 kg of onions : 1 kg of beef). The onions will serve as water to the dish.
Brown 1/2 pound of sliced chorizo sausage along with the beef and add to the stew.
Try adding different vegetables:  carrots, cassava root.
Adding the liver pâté is not really necessary, but it adds richness to the final dish that is very nice. An acceptable substitute would be liverwurst.