Bicol express is a spicy dish commonly cooked with a generous amount of chili,  coconut milk and shrimp paste. Served as a dish with rice or can be a pulutan with ice-cold beer but it depends on variations you use.
At first, I don't really know what is the reason why it is called "Bicol Express"  but I asked my best friend Eva who is from Bicol about it. She is the reason why I like this dish because she often cooked and share it to me. The reason she gave it to me and also from one article that she read they call this Bicol Express is that it makes you run for water like an express train as soon as you put it in your mouth because of the hottest dish came from the chili depends on how you cooked it.
And I also learned from her that there are many variations that just about you can  cooked this dish. it is only according to your own style, uniqueness, and of course your own personal preference. Use in seafood dishes, and also with beef, poultry, pork and vegetables.
So, this is my version of "Alamang Bicol Express".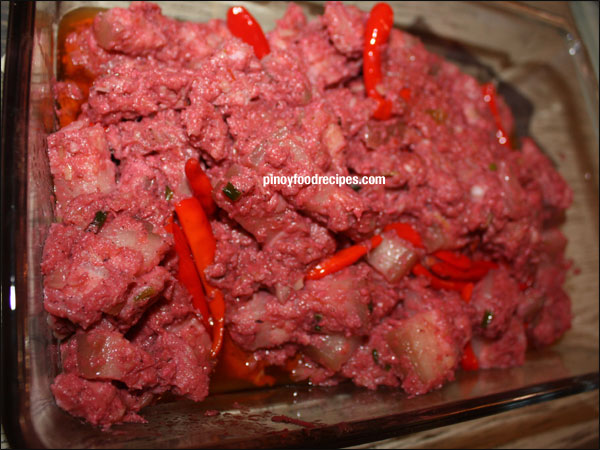 Ingredients:
1 bottle of shrimp paste
8 pieces red chili pepper (siling labuyo), whole
10 pieces green jalapeno pepper (siling berde), chopped
4 garlic cloves, minced
1 whole onion, chopped
1/2 kg pork, cut into tiny pieces
4 tablespoons vegetable oil
1 cup thick coconut milk (the light version can be pretty bland)
Optional Ingredient:
Cooking Procedures:
In a pan, heat oil and saute onions until translucent and add garlic. Let sauté until fragrant.
Add sliced pork and stir it until the color change into brown. Add red red pepper and bagoong alamang. Stir until meat  is completely covered by the mixture for about 8 – 10 minutes.
Add coconut cream and minced green jalapeno chili.
Let it simmer for 10 – 15 minutes until mixture is slightly thick.
Cooking Tips:
If bagoong alamang is too salty, soak in water and drain for 2 or 3 times.
Do not overcook the coconut milk.
In case, it is salty you can add sugar.
For more spicy, mince at least 4 pieces of red chili and add into it.
You can also add mince green onion leaves.
Use in seafood dishes, and also with beef, pork, poultry and vegetable recipes.