In cooking a dish, it is not necessary to follow procedures step by step as what recipe books say. Explore your creative flair and make your own style and ingredients added unto it. One example of doing so is the dish I would like to feature, a modification of the quintessential Filipino dish: adobo.
Normally, we Filipinos cook adobo solely with meat. Like adobong chicken, pork, and even beef.  But adding meat extenders like potatoes or string beans have become popular variation. Making this favorite dish even more flexible from a cook's perspective is the addition of a new ingredient: eggplant. This is a slight variation from another adobo fare, combined with okra.
As you would see in the photo below, I cooked adobong baboy with eggplant.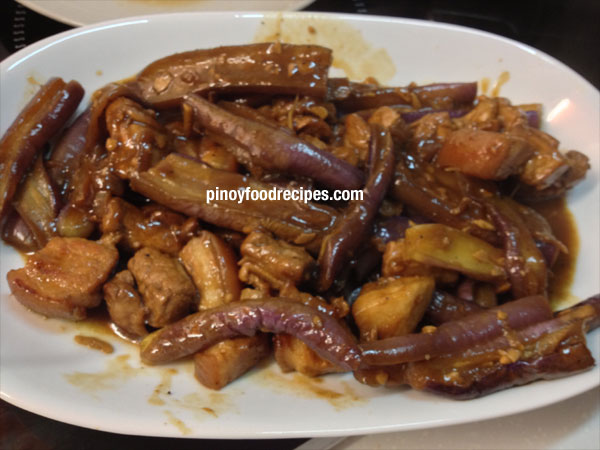 Ingredients:
1 whole  garlic, sliced
1 big shallot,sliced
500 g pork belly, cut
500 g eggplant, cut lengthwise
3/4 cup of soy sauce
1/2 cup of vinegar
2 tbsp cooking oil
Cooking Procedure:
Heat wok with oil, add garlic and onion. Saute until fragrance occur. Add cut pork belly and soy sauce keep stirring until it mix well.
Turn your fire into low and add a little bit of water. Simmer until meat is tender enough.
Add cut eggplant and vinegar. Simmer again for around 5 minutes or more until the eggplants is cooked. Season with salt and pepper.
Serve with rice.
Cooking Tips:
Do not overcook the eggplant.
Alternative for eggplants is long beans or sitaw.
Adjust meat if you want to have more vegetables.
Can also cook with or without meats which is must more healthier.
Alternative for vinegar is a squeeze of lemon or lemon juice.
Make sure there is a balance between salty and sour.