Pasta is an unleavened dough of wheat or buckwheat flour and water, and sometimes with eggs. Pasta comes in a variety of different shapes that serve for both decoration and to act as a carrier for the different types of sauce. And one of the part of pasta is we called " spaghetti". Spaghetti is a long, thin, cylindrical pasta of Italian origin.Spaghetti is made of semolina or flour and water.
Now I will show you my version of cooking spaghetti with white sauce and bacon.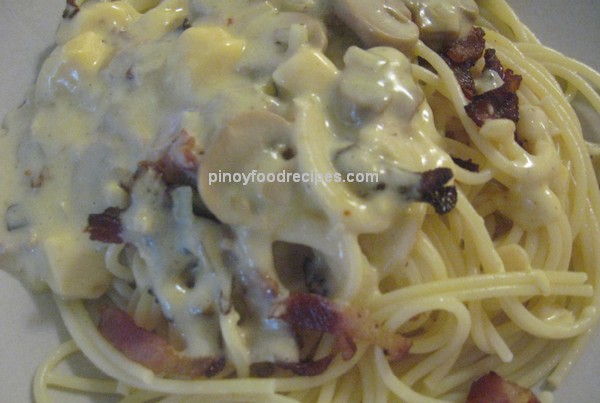 Ingredients:
300 g spaghetti
1 cup crispy bacon
2 gloves of garlic, mashed
1/4 cup cooking oil
1/4 cup minced onion
1 small tin of sliced mushroom
1 cup of all purpose cream
3 tablespoons unsalted butter
2 tablespoons flour
2 1/2 cups milk
salt and white pepper to taste
cheese
Other Ingredients
Oregano and or spike
Sour cream
Cooking Procedure:
Boil water in large casserole and simmer the spaghetti for at least 8-10  minutes with salt and cooking oil. Drain and set aside.
In a saucepan, toast slice bacon with hot cooking oil. Set aside.
In the same pan melt butter over medium heat. Add garlic and onion to saute and whisk in flour until smooth. Slowly add the milk and all purpose cream whisking continuously until smooth.
 Add mushroom and bring to boil for about 1 minute or until the sauce is as thick as you like. Add the salt and pepper. Stir.
In a platter arrange cooked spaghetti and pour enough toasted bacon and sauce. Garnish with cheese.
Cooking Tips:
Do not overcook spaghetti noodles.
You can add anything you like to make it special — such as a variety of cheeses (like Parmesan, mozzarella, ricotta), herbs, spices and other seasonings (garlic powder, oregano, bay leaf), a splash of white cooking wine, ham, sausage,parsley — ANYTHING!