It called a rainbow chicken maybe because of the color combination especially when a unique variety colour of vegetables added unto it such us carrots, red and yellow bell pepper, stalks of celery, peas, bamboo shoots and others you like to add. My apologies for missing the other ingredients that make up the name. Nevertheless, I hope you get the idea.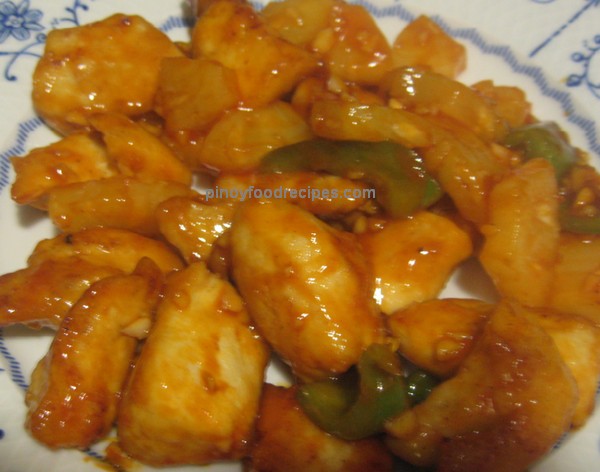 Ingredients:
4 teaspoons chicken broth
1/2 teaspoon sugar
Pinch of salt and white pepper
2 teaspoons white wine
2 tablespoons vegetable or sesame oil
2 chicken breasts halves, washed, patted dry, finely julienned
1 1/2 tbsp Chili paste w/garlic
1/2 Medium-size green pepper, cut
2 tbsp cornstarch
1 small tin pineapple chunk
1tbs achiote paste
Cooking Procedure:
In a small bowl combine chicken broth, sugar, salt, white pepper and white wine. Set aside.
In wok or skillet, heat vegetable or sesame oil over high heat.  Add achiote and stir in chicken, stirring for 2 minutes or until chicken is almost done.
Add green bell pepper and pineapple chunk and keep stirring.
To thicken the sauce mix cornstarch with small amount of water then pour it in the pan. Keep stirring for about 30 seconds.
Serve while it hot.
Cooking Tips:
To reduce fat, remove and blot chicken on paper towel before adding
vegetables. Wipe out oil in wok or skillet.