My husband and I went to a Thai restaurant in Causeway Bay and I was inspired to prepare one this unforgettable dish: Thai beef salad. It is a spicy blend of beef, assorted herbs and often wrapped in lettuce. I love this dish so please forgive me for including Thai recipe in our Pinoy food recipe website.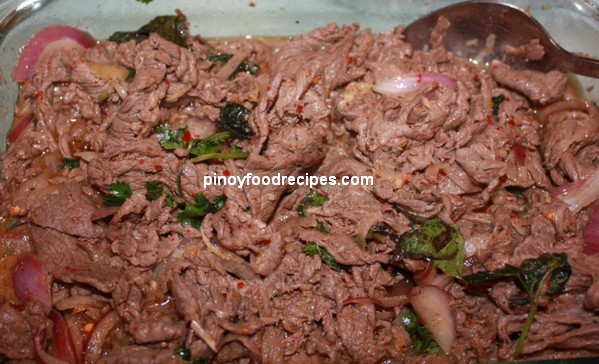 Ingredients:
2 beef rump steak
3 tbsp lime juice
2 tbsp finely chopped dark palm sugar
2 tbsp fish sauce
4 tbsp sesame oil
4 tbsp finely grated fresh ginger
2 tsp soy sauce
2 garlic glove, crushed
1 red onion, thinly sliced
mint
coriander
Thai basil
chili powder
Cooking Procedure:
Whisk together lime juice, palm sugar, fish sauce, sesame oil, soy sauce, ginger, and garlic in a jug.
Place steak in a glass bowl. Drizzle it with half dressings. Cover it and put it in the fridge turning occasionally.
Grill or fan-fry the marinated beef about 2-3 minutes each side in a medium heat. Transfer to a plate and cover with aluminum foil and set aside for 10 minutes.
Thinly slice beef. Drizzle it with the remaining dressings and gently toss to combine together with mint leaves,pieces of coriander, shredded onion, some chili powder and Thai basil. Mix thoroughly.
Serve with lettuce.
Cooking Tips:
Don't overcook the beef or else you will have a hard texture.
Adjust the chili powder accordingly to your preference or the people that you are serving this dish.
Best if consumed immediately after cooking.
It is good for the appetizer or starter.