Chicken with preserved plums and onions is not necessarily a Filipino food, but its influence in Filipino cooking may be widespread, given the fact that many Filipinos are employed abroad as cooks and domestic helpers who are hands-on in food preparation.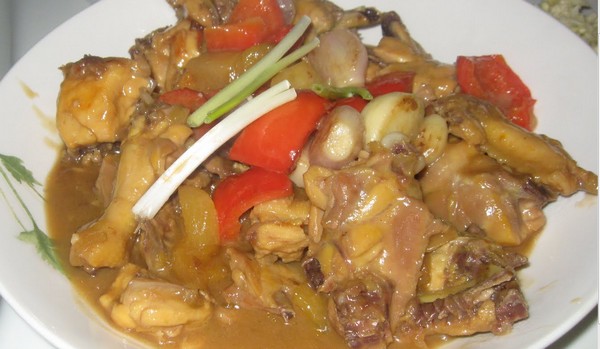 Ingredients:
250 ml chicken broth
Half fresh chicken
7 pcs sweet preserved plums
50g onion
2 stalks spring onion
10 pcs dry garlic
5 pcs sliced ginger
One whole red pepper

Seasoning:
1 Tsp of soy sauce
Handful of sugar
1/2 Tsp of corn flour
1 Tsp Shao Xing wine
Sugar
Oyster sauce
Cooking Method:
Cut chicken into sections and marinate with seasoning.
Soak sweet preserved plums 50 ml chicken broth for 15 minutes and then cook for 5 minutes. Set aside.
Saute sliced ginger, chicken, onion and red pepper slices till cooked, add Shao Xing wine and the remaining chicken broth and preserved plums. Add seasoning oyster sauce. Thicken the sauce and serve hot.