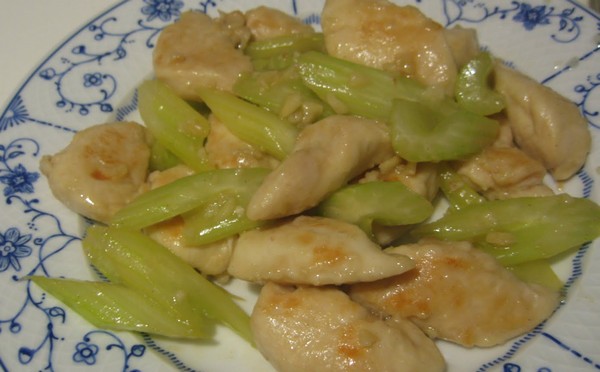 Ingredients:
230 g (8oz) deep frozen chicken breast
750 g (2.5oz) celery
6 braids of garlic
Seasonings for chicken:
1/2 Tsp salt
1/4 Tsp sugar
Some egg white
2 Tsp corn flour
Seasonings:
1/4 Tsp table salt
1 Tsp light sauce
1/2 Tsp pepper
Method:
Rinse chicken breast. Thinly slice (or thickly shred) chicken breast. Marinate with seasonings for chicken.
Thinly slice (or thickly shred) celery. Mince garlic.
Soak chicken and celery in hot oil for a while. Take out and drain.
Saute minced garlic w/some oil. Add seasonings and stir. Put in chicken and celery. Stir well. Dish up and serve hot.