Visit a typical Filipino corner carinderia and you'll often find Menudo. Our Filipino Menudo recipe may owe its name and influence from Spanish origins, but there are several ways of preparing menudo, in terms of ingredients, preparation and taste. A typical Filipino Menudo recipe leans towards more colorful output, thanks to tomato sauce and atsuete, but here I am not using either of the two. And instead of a spicy taste, this preparation lean towards the sweet, as you'll note the absence of spicy ingredients. Preparation may be a bit more labor-intensive than others, with the slicing, chopping and dicing, but the output is one certified element of a hearty meal.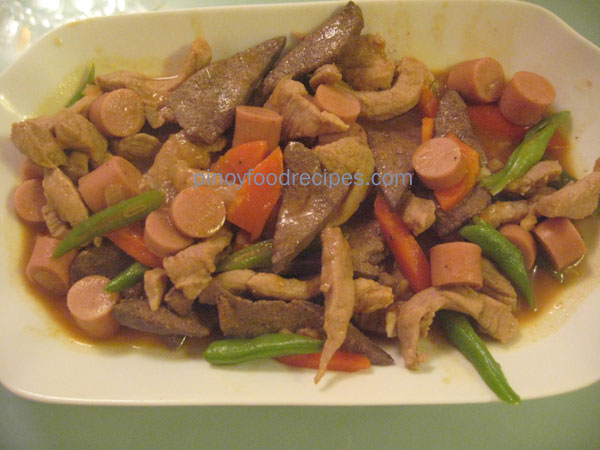 Menudo Ingredients
1/4 kilo pork (cut into small chunks)
1/8 kilo pork liver (cut into small cubes)
1 tin Vienna sausage
1/4 cup sliced carrots
1 cup pork or chicken stock
2 teaspoons of patis (fish sauce)
3 tablespoons cooking oil
1 tsp tomato ketchup
1 small head of garlic (minced)
1 medium size onion (diced)
A dash of salt and ground pepper
Cooking Instructions
In a pan or wok, heat cooking oil.
Saute garlic, onion. Then add the pork, liver, Vienna sausage, patis and the stock.
Cover and bring to a boil. Simmer for 20 minutes or until the pork is tender.
Put salt and pepper to taste.
Serve hot with white rice.