Pancit or pansit is the term for noodles in Filipino cuisine. Noodles were introduced into the Philippines by the Chinese and have since been adopted into local Pinoy cuisine. Noodle dishes are also standard fare in local restaurants and come in different forms and cooking methods. Food establishments specializing in noodles are often referred to as panciterias.
You just can't escape during parties or fiestas – cooking pancit. It's traditional to serve pancit on someone's birthday party because noodles represents a wish for the celebrant's long life. It then follows that if you do cook noodles on a birthday, you don't cut the noodles.
There are different ways of cooking noodles. Some like it one way or another…there are no strict rules. So,I got my own way using shrimps, vegetables, chicken fillet or any ingredients that were mainly scraps from the fridge.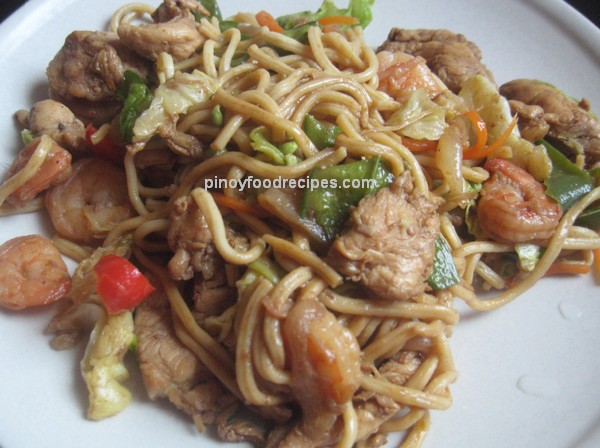 Ingredients:
4 tablespoons vegetable oil
2 tablespoons soy sauce
2 tablespoons fish soy sauce
3 cloves garlic crushed
1 onion sliced
1 red and green bell pepper sliced
1 lb pancit canton
1 cup pork cut into strips
1 cup boneless breast cut into strips
1 cup shrimp peeled and deveined
1 cup cabbage shredded
12 pieces snow peas or 12 to 15 runner (Baguio) beans, stringed and sliced diagonally into thin strips
1 carrot sliced into strips
1/2 teaspoon ground peppercorn
2 cups chicken broth
3 stems green onions
Cooking Procedure:
Heat oil over medium-high heat in wok or large skillet.

Saute garlic and onions until tender.

Add pork, chicken and shrimp, ground peppercorn and cook until browned.

Add soy sauce and fish sauce, stirring to flavor.

Add chicken broth and bring to boil.

Add cabbage, green beans, carrots and .

Cook until vegetables are tender, yet crisp, 5-8 minutes.

Add noodles, bell pepper, and snow peas, mixing gently to prevent them from breaking.

Cook until liquid is absorbed and noodles are done, about 10 minutes.

Remove from heat. Garnish with green onions and lemon wedges.
Cooking Tips:
 Blanching the noodles first  it makes them soggy.
To make more tastier you can add pork liver or chicken liver and also can be added the sausages and ham.
 Cooking  in broth and absorb the flavor of the meat and vegetables.
Frying the noodles first before stirring them into the sauce it  gives the cookedpancit canton the best texture. However, the cooked dish is also need a lot of oil and so that makes you noodles oily.
Do  not overcooked  your vegetables and noodles.