Paella  is a Valenciana rice dish that originated in its modern form in the mid-19th century near lake Albufera, a lagoon in Valencia, on the east coast of Spain. Many non-Spaniards view paella as Spain's national dish, but most Spaniards consider it to be a regional Valencian dish. Valencians, in turn, regard paella as one of their identifying symbols.
I was inspired to cooked this dish when I went to Barcelona and Madrid, Spain last year. I was really looking something a rice that time to eat for our dinner with my husband because it is almost 10 days that I haven't eat rice and I craved for it. So, I've decided to look for a restaurant that offers something rice and luckily I found it. This yummy rice really fulfill me and I really like it.  It is also reminded me the other version of my grandmother who often cooked occasionally a Valenciana rice. It is cooked by a glutinous rice with a yellow color.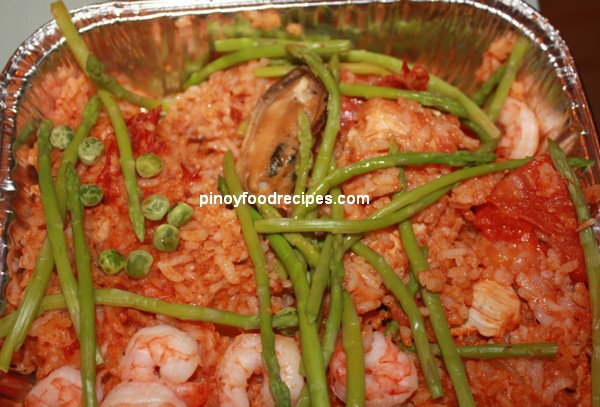 Ingredients:
asparagus spears
1 cup frozen green peas
1 tsp salt, for blanching
3 cup water, for blanching
3 cup iced water
200g clams ( may be omitted )
300g cooked prawns
200 g mussels ( may be omitted )
3 tbsp annatto oil ( see tips )
5 cloves garlic, minced
1 small onion, minced
1/4 kg pork loin, sliced on the diagonal
1 1/2 cup Japanese rice or Paella rice
1 cup tomato puree or crushed tomatoes
1 tbsp Spanish paprika
Pinch og saffron
3 cup chicken stock
salt and pepper, to taste
Lemon wedges
Cooking Procedure:
Wash asparagus and snap off the hard ends. Rinse green peas in tap water and shake off excess water. I a large stock pot, add the 1 tsp salt to the 3 c water and bring to a boil.
Add asparagus and green peas and let boil around one to two minutes. Immediately remove vegetables from the pot and plunge into a bowl of iced water. Let stand for afew minutes then drain the vegetables. Set aside.
Steam the clams and mussels until they open. Set aside.
In a paellera or a large shallow pan, heat the annatto oil. Saute onion for one to two minutes then add garlic and saute until fragrant. Add chicken fillet, pork cubes and chorizo de bilbao and cook until brown.
Mix in Japanese rice and saute for about 1 minute. Add tomato puree or crushed tomatoes. Stir paprika and safron into chicken stock and pour into the pan, making sure to distribute the liquid evenly. season with salt and pepper. Cover and simmer un til rice and meats are fully cooked, around 20-30 minutes.
Top with blanched asparagus, green peas, mussels, clams, and prawn.
Cooking Tips:
Prepare the vegetables ahead of time so they can be at room temperature when you add them to the cooked paella.
To make annatto oil, dissolve 1/2 tbs. annatoo ( also known as achuete ) in 3 tbsp cooking oil.
If not using mussels and clams, substitute cooked prawns, if desired.
For the chicken, you can use chicken breast or chicken thigh fillets.
To make a quick chicken stock, add 2 chicken broth cubes to 3 c water in a saucepan. Heat until broth cubes dissolve.
To create tutong, the toasty bits of rice on the bottom of the pan ( or what the Sapaniards call socarat ): After the rice has cooked, turn up the heat and cook a few more seconds, until brown crust forms in the bottom layer of rice.
Other toppings for the dish: strips of bell peppers, sliced hard-boiled eggs, and cooked calamari.