Do you enjoy seafood? If so, here's the other way of cooking it for your lunch and dinner. I hope you'll love this  curry recipe that I made because I believe this is the healthiest curry I have ever cooked. There are lots of variations and colourful ingredients and it tastes good too!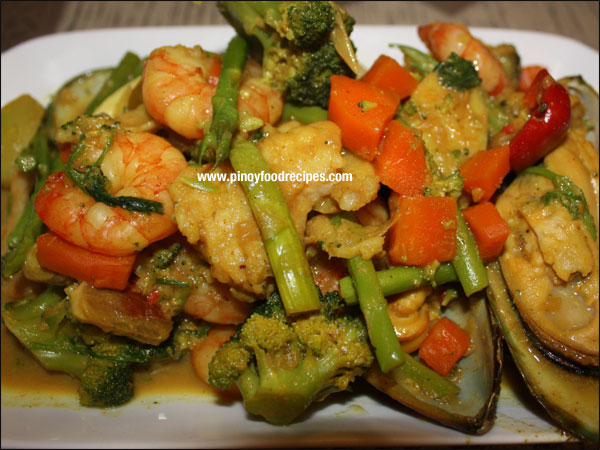 Ingredients:
2 tbs vegetable oil
1 onion, minced
1 garlic clove, crushed
2-2 sliced of  ginger
3 tbs mild curry paste
1 tbs cumin
1 tsp paprika
1 tbs tomato puree
250g skinless, boneless white fish  (such as blue-eye or perch), cut into 2cm chunks
300g  prawns, peeled, tails intact
300 g slice squid
6 pieces large mussels
1 tin coconut Milk
Broccoli
Carrots, cunt into small cubes
Red bell pepper, cut into cubes
Green bell pepper, cut into cubes
6 pieces of baby asparagus
1/4 cup (60ml) fish or chicken stock
2 tbs chopped coriander leaves, plus whole leaves to garnish
Seasoning:
dash of fish sauce
ground pepper
salt
Cooking procedure:
Blanch broccoli, carrots, and asparagus. Drain and set aside.
Heat the oil in a heavy-based fry-pan over medium heat. Add the onion and cook, stirring, until softened. Stir in the garlic and ginger and cook for a few seconds.
Add curry paste and tomato puree, and cook, stirring, for 1 minute until fragrant.
Add seafood to pan and coat well. Pour in the coconut milk, stock , and season with dash of fish sauce, salt and pepper. Bring it to a boil, then reduce heat to low and continue cooking for a further 8 minutes.
Add all cooked vegetables, coat it well and cook for another 2 minutes until seafood is cooked through.
Stir in chopped coriander. Serve with steamed rice and garnish with coriander leaves.
Cooking Tips:
Do not overcook vegetables, coconut milk and all the seafood.
Add lime wedges is much more tastier.
Good combination with naan bread as well.