There are many variations of curry although its origins can be traced to Indian, Bangladeshi, Pakistani, Sri Lankan, Thai and other Southeast Asian cuisines. They come with various ingredients such meat, poultry and seafood, combined with vegetables, notably for those classified as vegetarian curry dishes.
Filipino curry dish often has pork or chicken, along with other ingredients commonly found in delicacies such as adobo and caldereta. They are often combined with lemongrass, potato and coconut milk.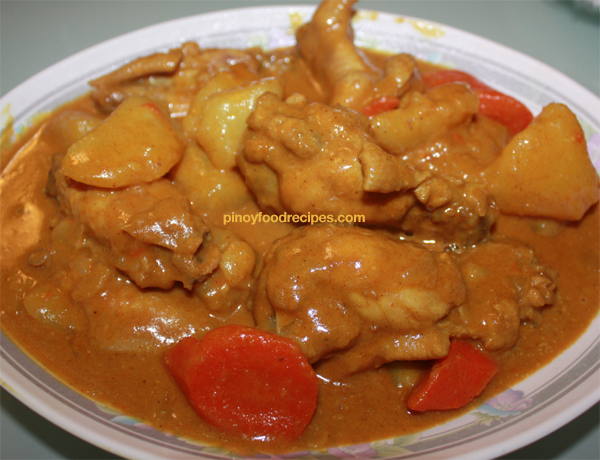 Ingredients:
1 kl. chicken cut into pieces
2 carrots cut into a big square
2 pcs potato cut into big square
1 white onion, minced
2 gloves of garlic, minced
3 tbsp curry paste
2 sliced of ginger
1 tin coconut milk
2 tbsp vegetable oil
Salt and white pepper powder
Procedure:
Peel and cut carrots and potatoes.
Cut and wash chicken thoroughly and drain.
In a large skillet, heat oil and sautee minced onion, slice ginger and minced garlic.
Add chicken and stir it until it's become a little bit brown. Add carrots and potato's. Cover and let it simmer in a low heat.
Get 1 bowl of water and mix with curry paste. Turn the fire into a medium heat and pour the curry mixture. Simmer around 10 minutes.
Open the lid, pour the coconut milk and simmer it around 2-3 minutes until everything is well-cook.
Add salt and pepper to taste.
Serve it while it's hot with rice or nan bread.
Cooking Tips:
You can add lemon grass, bay leaf's, bell pepper, coriander or any species leaf.
Do not overcook coconut milk.
Marinate chicken for about 15 minutes ( light soy sauce, sugar, and corn starch).