There also many ways of cooking squid. One of the ways I tried is a spicy sweet and sour squid. Normally, cooking a squid is easy and quick dish. So, try this recipe that I wanted to share.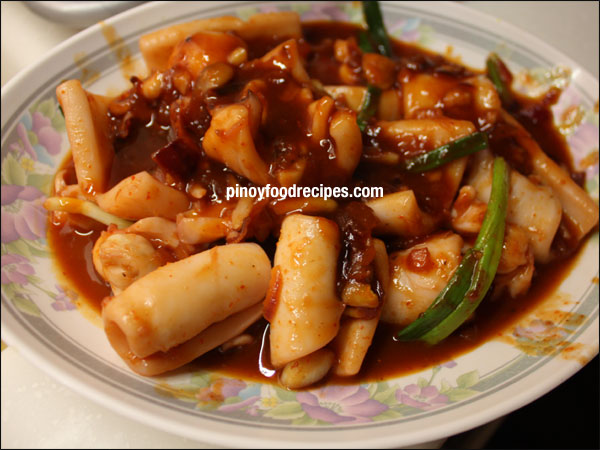 Ingredients:
1 kilo squid, clean and cut into a square shape
3 gloves garlic, mince
1 small white onion, mince
Pinch of salt and black pepper
3 tbsp vegetable oil
2 pcs red chili, mince
1/4 cup brown sugar
water
3 tbsp tomato sauce
small amount of tomato paste
1 stalk of spring onion.
Cooking Procedure:
Heat oil in a wok, add minced garlic and minced onion. Saute a little bit until fragrance appear. Add minced chili.
Follow by the squid. Keep stirring around 2 minutes. Add small amount of tomato paste, tomato sauce, and sugar. Mix it well and follow it by water. Let it simmer until sauce is getting ticker. Lastly, pinch of salt and pepper and mix thoroughly. Sprinkle with spring onion.
Serve while its hot and with rice.
Cooking Tips:
Do not overcook squid and bell pepper.
You can use ketchup as another alternative.
Adjust chili for your preference.
Adjust sugar and tomato's according to your taste.