Actually, this type of adobo is the same version that we used to have. I just only add another part of pork meat which is the liver. Every time I cook adobo, I make sure that I have enough steam rice.
Most of the Filipinos really love to eat adobo. It is already part of a Filipino cuisine. Even though it has a different version but it is still has adobo taste and variation from other nationalities are also available.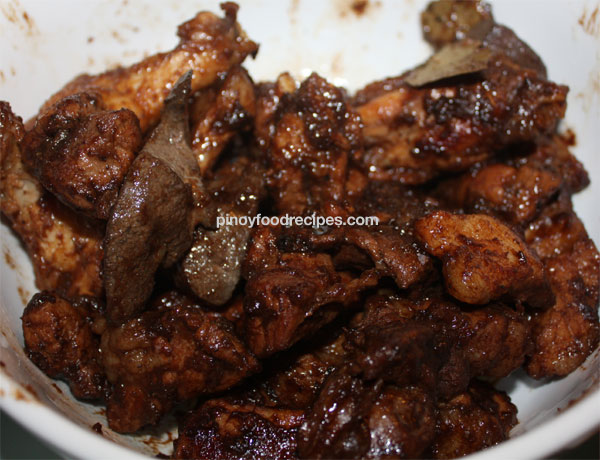 Ingredients:
400g of pork belly, cut into cubes
400g of chicken, cut into pieces
200g of pork liver, cut into cubes
3 pcs.bay leaves
1 cup soy sauce
1 tbsp salt
1 tsp ground pepper
1 tsp powder pepper
1 cup vinegar
1 whole garlic, minced
2 tbsp. cooking oil
2 pcs. shallot, minced
Cooking Procedure:
Wash, slice and drain all the meats.
Marinate pork liver with dash of powder pepper, dash of salt, dash of sesame oil, and little bit of vinegar for about 10 minutes..
In a large wok. Heat oil. Saute garlic and onion. Still-fry pork and chicken until it turns to brown. Add soy sauce,vinegar, and ground  pepper. Simmer for 20 minutes in a low fire.
After 20 minutes add salt, powder pepper, bay leaves and pork liver. Mix and stir evenly in a medium fire. Simmer for another 5 minutes until meats are tender and thicken the sauce.
Taste it and adjust the seasoning according to your taste and preferences.
Share and serve with rice.
Cooking Tips:
Don't overcook the pork liver and make sure it is still juicy. The juicer the better.
The cooked product can have a sauce or you can remain it dry with sauce.
Put sufficient vinegar.