One of the most popular Filipino dishes is adobo. It is a quintessential Philippine stew, often present in fiestas and other social gatherings. It often involves pork or chicken meat marinated in a sauce of vinegar and garlic, browned in oil, and simmered in the marinade. Although they share the same name with a Spanish dish (literally adobo is Spanish for seasoning or marinade), its method is indigenous to the Philippines.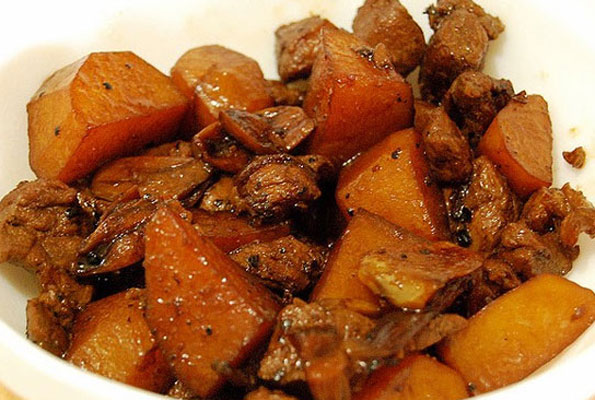 Ingredients:
1/4 kilo of Pork belly
1/4 kilo of lean pork
dash of peppercorn
4-5 pieces of bay leaves
1 pounded cloves of garlic(as much possible a native one)
2 sliced of shallot
2 pieces of potato
Seasonings:
1/4 cup light soy sauce
1/4 cup of dark soy sauce
1/4 cup vinegar
1 tbsp salt
1/2 tbsp sugar
Cooking Method:
1.) Wash and cut into bite sizes pork and potato.Drain. (Meat should be thawed well before cooking).
2.) Immerse potato in hot oil and cooked only in medium. Drain
3.) Saute garlic and shallots in a small amount of oil in a pan. Add sliced pork simmer for about 2 minutes. Add soy sauce and vinegar directly after each other. Then, follow the rest of seasonings. Keep stirring till it mix well. Add a dash of peppercorns and at least 4 pieces of bay leaves.
4.) Cover with the lid and simmer for about 30 minutes on a very low heat. Keep your eye on it in case it dries up
(if it is just add hot water at least 1/4 cup).
5.) After 30 minutes add the medium cooked potatoes and add another 10 minutes simmering in high heat till it coated the sauce to the meat.
Optional: You have two choices:
A.) You can remain the sauce. Or
B.) You can dries up. Keep only stirring till you can find the excess oil came from the meat.
Note: The best way to have a taster Adobo it should be salty a bit and tender. Serve hot is better. Can also use chicken.